The Solar Energy USA team, one of Georgia's top solar companies, is proud to announce their award to install a 106 kW solar energy system. The solar panel project will offset power costs at the Georgia National Guard facility in Savannah.
Solar Energy USA is proud to announce that they have been selected by the Department of Defense to install a 106 kW photovoltaic solar energy system at a military base in Savannah, Georgia.

The roof-mounted PV system will be installed on the GA National Guard Hunter AASF building and will generate more than 161,000 kWh of power annually. The 403 solar panels to be installed are made by Suniva, another Georgia based company.
"The United States is currently experiencing a very strong period of solar growth," said Perry Bell, President and CEO of Solar Energy USA. "Thanks to decreasing costs and impressive long-term savings, over 5.3 gigawatts (GW) of new American solar electric capacity is projected to come online in 2013. Solar Energy USA is proud to offer our line of Affordable Solar Solutions to the Department of Defense at the Georgia National Guard facility in Savannah."
The Savannah National Guard solar installation decision comes shortly after a U.S. Army policy memorandum on energy-related topics including solar power was introduced.
In May of 2013 the Army established a new policy for 'Operational Energy,' which focuses on improving the Army's capabilities through better use of energy. The total installed capacity of renewable energy sources for the U.S. military will grow from 80 megawatts (MW) in 2013 to more than 3,200 MW by 2025 - increasing more than four-fold in 12 years – according to a report from Pike Research.
Solar Energy USA expects the Savannah National Guard solar power system to be installed and operational by the end of Q1 2014.
ABOUT SOLAR ENERGY USA
Based in Atlanta, Georgia, Solar Energy USA is a national solar integrator specializing in affordable residential and commercial solar solutions including photovoltaic (PV) solar panels, solar thermal systems, and energy efficient lighting including T5 and LED lighting.
Featured Product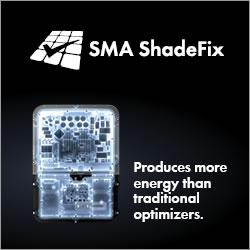 A recent university study showed SMA ShadeFix optimization produces more energy than traditional optimizers. It also utilizes far fewer components, reducing the need for costly service visits. Systems with ShadeFix optimization and SunSpec certified shutdown devices are the ideal solution for residential and commercial PV systems. Visit SMA's website to learn more and download the whitepaper.