SolarCity DemandLogic™ integrates intelligent management software and Tesla battery technology to reduce businesses' peak demand, provide backup power during outages and potentially save thousands on energy costs
SAN MATEO, Calif., Dec. 4, 2013—SolarCity® (Nasdaq: SCTY) has unveiled a smart energy storage system to address two major pain points for business: rising utility demand charges and increasing grid outages. SolarCityDemandLogic™ can allow businesses to reduce energy costs by using stored electricity to reduce peak demand, and can also provide backup power during grid outages. Developed with advanced battery technology from Tesla, DemandLogic storage includes learning software that automates the discharge of stored energy to optimize utility charge savings for customers.

"Utilities have altered their rate structures such that demand charges are rising faster than overall energy rates, and businesses are bearing the bulk of those increases," said Peter Rive, SolarCity's chief technology officer and chief operations officer. "Time is money, but so are control and predictability. Our storage systems can give businesses the tools to address all three—delivering immediate savings, protection against escalating demand charges and optional, grid-independent backup power in case of outages."
SolarCity storage systems are available to new solar power customers through 10-year service agreements including monthly payments, with no upfront cost required. SolarCity will customize the system size to make it possible for businesses to save money immediately by saving more on energy costs than they spend for the storage service. Unlike load shifting approaches to demand management, this product requires no change in operations for the business and is fully automated. DemandLogic can also power IT functions, security systems, cash registers and other critical business systems during power outages. SolarCity analyzes each organization's energy usage to design a storage system that can offset peak load and support high priority backup functions.
"We are thrilled to leverage Tesla's technology leadership in energy storage systems, charging and power electronics to enable this exciting SolarCity launch," said Tesla CTO and co-founder JB Straubel. "The economics and scale that Tesla has achieved in the automotive market now make stationary energy storage more cost effective and reliable than it has ever been in the past. We expect this market to grow very rapidly now that we have crossed this economic threshold."
The utility grid is aging and outages are increasing. The U.S. experienced 679 major weather-related power outages between 2003 – 2012, including 7 of the 10 costliest storms in American history. At the same time, while overall electricity usage in the U.S. has increased only modestly since 2001—approximately 10 percent according to the U.S. Energy Information Administration—utility revenues have increased more than 50 percent in the same time period. [1]
Utilities have increased revenues faster than electricity usage in part by creating "demand charges" for businesses that have increased their share of the utilities' cost burden. Some utilities are basing rates less on the overall amount of electricity consumed, and more on "peak demand", i.e. the maximum amount of electricity used at a specific point in time. Solar power can significantly offset the overall amount of electricity used by organizations, but if an organization's "peak" electricity demand is still high during the day—in the late afternoon, for example—the organization can be hit with high demand charges. SolarCity's commercial storage system regulates the amount of electricity that organizations need from the grid during "peak" periods, reducing exposure to exorbitant demand charges.
SolarCity storage systems will initially be available in areas of California serviced by Pacific Gas & Electric and Southern California Edison, areas of Massachusetts serviced by NSTAR, and areas of Connecticut served by Connecticut Light & Power. For questions or additional information about the program, business owners should contact SolarCity directly at 888-SOL-CITY or 888-765-2489, visit www.solarcity.com/demandlogic or email demandlogic@solarcity.com to schedule a free consultation.
Featured Product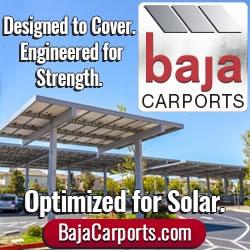 Baja Carports offers an extensive solar support system product line customized to customers' site specifications by in-house engineers, meeting their parking lot coverage, plus optimal PV production needs. Baja's Full Cantilever Tee is often paired with its Semi and Full Cantilever carports to meet live/loads up to 60psf and wind speeds to 160mph. All Baja products are pre-fabricated, bolted connections, pre-galvanized structural steel for fast on-site installation and project aesthetic requirements."