TRA-Mage has ceased doing business and has sold all remaining solar mounting products to their former partner, TRA Snow and Sun.
American Fork, UT, December 05, 2013 As part of the dissolution of TRA-Mage, Inc., TRA

Snow and Sun, Inc. has purchased more than $500,000 worth of the remaining TRA-Mage solar
mounting products and has offered it at discount to its customers.
In March of 2013, TRA Snow and Sun, (formerly TRA Snow Brackets)
and Mage ceased doing business together as TRA-Mage. All TRAMage
solar products were shipped to Mage Solar in Dublin, Georgia
and TRA Snow and Sun operated like they did before the merger
with Mage in 2004. TRA Snow and Sun resumed using its own
name exclusively when manufacturing and selling snow brackets,
roof ventilation products and solar mounting systems. Mage, a
large corporation based in Germany, chose not to continue the solar
mounting business independently.
With the flood of PV from China to the rest of the world and the
resulting bottoming out of prices, many solar manufacturers have
either been acquired or have undergone major cutbacks. Mage Holding,
with operations throughout Europe and with a large PV plant in Dublin, Georgia (MAGE Solar)
has undergone changes in their operations worldwide. Their Austrian aluminum extrusion
company, Mage Sun Fixings, closed its doors in the spring and other sister companies have cut
back their scope of business.
Terry Anderson, who resigned as TRA-Mage president in March, but always owned and
functioned as president of his original company decided to exclusively run TRA Snow and Sun.
He saw the option to purchase TRA-Mage's products as a great opportunity for his customers.
"We purchased 40 mm x 60 mm rails, six single axis solar trackers, attachments, small parts
and other inventory at a greatly reduced price and decided this would be a fantastic opportunity
to sell quality goods at reduced prices to our customers. I traveled to Georgia and personally
oversaw the repackaging and shipping of the products that had previously been stored in my
American Fork, Utah facility." Anderson says that some of the solar mounting products were
shipped directly to customers from Georgia but a good selection is still
available from TRA Snow and Sun's facility in Utah.
Even at the reduced prices, TRA Snow and Sun will engineer any solar
mounting system or snow retention project for free using their in-house
engineering department.
TRA Snow and Sun, Inc., located in American Fork, Utah, offers Roof Snow
Retention Devices, Solar Mounting Systems and Roof Flashing Solutions.
They supply to all types of customers, from the individual homeowner to the
big developer and free engineered designs of all their systems. For more
information call Jacob Anderson at TRA Snow and Sun at 800-606-8980 or
visit www.trasnowandsun.com
Featured Product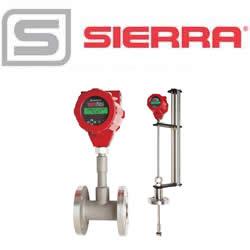 Sierra was the first to introduce a combination volumetric vortex and multivariable mass flow meter in 1997. Today, Sierra's completely redesigned InnovaMass® iSeries™ 240i/241i builds on two decades of success measuring five process variables for gas, liquid and steam with one connection. Now, with the latest hyper-fast microprocessors, robust software applications, field diagnostic and adjustment capability, and a new state-of-the-art flow calibration facility, Sierra's vortex iSeries delivers precision, performance, and application flexibility never before possible.