JinkoSolar is among the few non-Japanese companies to have obtained JET, JPEC, and JISQ8901 certifications.
SHANGHAI, Dec. 10, 2013 -- JinkoSolar Holding Co., Ltd. ("JinkoSolar" or the "Company") (NYSE: JKS), a global leader in the solar PV industry, today announced that its modules have received JPEC certification in Japan, following the receipt of JET and JISQ 8901 certification earlier this year. JPEC certification allows JinkoSolar modules to be used on small roof-top installations making them eligible to receive subsidies from the Japanese government. JinkoSolar is among the few non-Japanese companies to have obtained JET, JPEC, and JISQ8901 certifications.

Focused on small roof-top installations, JPEC certification is awarded by the Japan Photovoltaic Energy Association. The certification ensures that Jinkosolar modules are compatible with the local electricity grid and meet the strict safety requirements and national standards needed to be used for Japanese small roof-top installations. All of JinkoSolar's module types are covered under the certification and will allow the Company to increase its product offerings to meet the increasing demand from the Japanese market.
"JinkoSolar is among the few non-Japanese solar companies to have received JET, JPEC, and JISQ 8901 certifications. Having our modules pass the rigorous testing required for certification demonstrates the reliability and superior quality of our products. Our modules are now certified for use in a wide range of PV systems including residential and commercial rooftops, as well as ground-mounted PV plants in Japan. JPEC certification will surely open the door to new opportunities for us in the rapidly growing Japanese market. We look forward to further collaborating with our local customers and partners by providing them with the highest-quality products and services," said Mr. Kangping Chen, Chief Executive Officer of JinkoSolar.
About JinkoSolar
JinkoSolar is a global leader in the solar PV industry with production operations in Jiangxi and Zhejiang Provinces in China and sales and marketing offices in Shanghai and Beijing, China; Munich, Germany; Bologna, Italy; Zug, Switzerland; San Francisco, the United States; Queensland, Australia; Ontario, Canada; Singapore; Tokyo, Japan; and Cape Town, South Africa.
JinkoSolar has built a vertically integrated solar product value chain, with an integrated annual capacity of approximately 1.5 GW each for silicon ingots, wafers, and solar PV cells, and approximately 1.8 GW for solar PV modules, as of September 30, 2013. JinkoSolar sells electricity in China and distributes its solar products to a diversified customer base in the global PV market, including Germany, Italy, Belgium, Spain, the United States, Eastern Europe, China, India, Japan, South Africa, and other countries and regions.
To find out more, please see: www.jinkosolar.com
Featured Product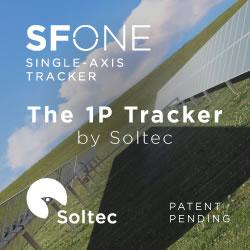 Soltec manufactures and supplies solar trackers designed and proven for extreme climate conditions, which is an ideal solution for any region's environment. Soltec's trackers are self-powered, requiring no additional PV module or grid-powered connection. Bifacial modules collect energy on both the front and rear sides, capturing reflected irradiance from the ground surface under and around the tracker and from other modules. Depending on site conditions, bifacial yield-gain can reach +30 percent.