For nearly a decade now, skytron® energy, the German supplier of high-quality monitoring, control and supervision solutions for the renewable energy sector, has been among the market leaders for remote supervision software for solar plants.
PVGuard® - recognised by the prestigious Intersolar Award - has now made another considerable leap forward in its powerful capabilities as one of the industry's leading tools for energy production planning, performance analysis and system integration.

PVGuard® - skytron energy's SCADA software for the supervision of photovoltaic power plants - has been expanded in line with changing market conditions for renewable and hybrid power plants; due especially to the opening of the energy market for direct trading on electricity exchanges and the volatility in the investment sector for Renewables which is creating a demand for more versatile tools for production forecasting, flexible reporting, extended data analysis and interoperability.
Production forecasts for strategic grid and market integration
Finely-tuned several times a day, production forecasts supplying estimates of hourly production for up to 7 days in advance support the strategic trading of electricity from solar plants. But not only the commercial dispatching of electricity benefits from production forecasts. Grid connection specifications of some countries, such as California (USA), Puerto Rico, Romania and South Africa, also insist on a reliable prognosis of the power available for grid injection. In PVGuard, an auto-adaptive algorithm predicts the power production on the basis of current weather data, plant characteristics and the output over recent weeks.
FlexReportXL for versatile plant performance reports
Drawing from the comprehensive database accumulated by the underlying monitoring system and having access to every single measurement value, the new FlexReportXL report generator produces plant performance reports of the highest informative value. Standard report templates may be used as a simple starting point, or effortlessly adjusted to specific requirements. Information from other sources, such as forecasts from the yield assessment report, and customers' own calculations may be incorporated in the automatic report. FlexReportXL allows the generation of multiple reports of different content as well as their e-mail dispatch at selectable intervals from an hour to a year.
XY diagrams for enhanced function analysis
XY diagrams enable the creation of 2D and 3D scatter plots as a basis for systematic function analysis. Thus, for instance, the behaviour of the plants' solar inverters can be graphically verified by displaying the measured irradiance with respect to the inverter power or voltage values. Similarly, cooling effects on solar modules can be investigated by mapping the measurement values for irradiance, module temperature and wind speed in a scatter diagram. Such in-depths diagnostics are a sound basis for preventive maintenance planning and increase the plant's availability and efficiency.
System migration for modernising existing plants
Investors and O&M companies whose renewable plant portfolios are growing through the assimilation of plants containing diverse technical equipment, highly appreciate the benefits of a unified supervision platform which integrates all their different plants. PVGuard has therefore been opened up to allow migration of measurement data from third-party monitoring components into its long-term database and to refine this data for visualisation, analysis and reporting in the PVGuard environment. When deciding whether to employ such a "soft" data migration or rather to undertake a "hard" retrofit of new sensor and logging equipment, skytron energy provides all the engineering support necessary, including the assessment of the original communication infrastructure of the existing plant.
"The valuable feedback of our customers helps us to boost our SCADA system with new functions that truly reflect the wishes of those who use the tool in their everyday work", emphasises Frank Schnabel, Product Manager for PVGuard. "In 2014 we will continue offering our regular PVGuard workshops: not only to explain and apply the new features, but also to maintain a dynamic exchange of ideas with the users of PVGuard."
About skytron energy
skytron energy has been developing integrated monitoring, control and supervision systems since 1977. Now one of the leading suppliers in the industry, specializing in utility-scale and commercial power plants, it has installed monitoring and control systems in more than 600 plants with a total capacity of over 4.5 GWp. The company's core competencies are plant condition monitoring, power plant control, remote plant supervision, system migration of existing power plants, operation & maintenance, and PV asset management. skytron energy is headquartered in Berlin, Germany, and has operations in Plano, Texas; Santiago, Chile; Cape Town, South Africa; Bangalore, India; Singapore and Beijing, China. As a technology leader, skytron energy has received a number of prestigious awards, such as the highly coveted InterSolar Award for the "PVGuard" Supervision Platform and for the "StringGuard" string current measurement system.
Featured Product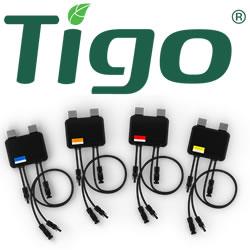 Tigo will announce the new product launch of the patented UHD-Core TS4-A (Advanced Retrofit/Add-on) Platform at SPI 2019. The new TS4-A-M (Monitoring) & TS4-A-S (Safety) units have improved lightweight hardware and lower labor costs to address a range of functions and budgets. The TS4-A-M allows module-level monitoring via Tigo's SMART Website & App. The TS4-A-S is UL-certified as a rapid shutdown solution for residential and C&I PV system. Both units join the Tigo's multivendor solution that works with almost any inverter and smart module in the global PV market. Contact sales@tigoenergy.com for pricing, shipping, and availability in Q4'19.