The Showstopper Award is the most prestigious recognition given in the electrical construction industry
Collinsville, Illinois December 11, 2013

The Showstopper Award is the most prestigious recognition given in the electrical construction industry. It is awarded by Electrical Contractor Magazine at the annual NECA (National Electrical Contractors Association) Showcase and Awards conference each year.
The Showstopper Showcase and Awards is for new products and services that have been on the market since January 1, 2012. Out of 125 total vendor participants, only 20 will win the coveted Showstopper Award. These new products and services are designed to help contractors on the job and are also recognized for ingenuity and industry excellence.
Day & Night Solar is a proud recipient of this award for their patent pending Sun Commander® Series 8000. The Sun Commander® is a solar PV mobile unit with on-grid/off-grid capabilities. When there is a power outage due to a storm, natural disaster or man-made disaster, Sun Commander® will be fully charged and ready to supply immediate and continuous power with various connection options available.
Because it is a mobile unit, Sun Commander® can be folded and transported. In the event of a disaster or a need for power at a remote location, Sun Commander® can be deployed within an hour (using three people) and pulled behind a standard 3/4 ton pick-up truck to the site, offering immediate power.
The innovative frame of the solar system is formed from polyurethane composites utilizing a Bayer MaterialScience LLC polyurethane system that features renewable raw materials. These materials allow for greater strength and weight reduction. Combining these materials with frameless panels removes the need for grounding. Also, unlike traditional materials, strong, yet lightweight polyurethane composites will not rot, rust or corrode.
The Sun Commander® is proudly made in the US and uses approximately 95% of US parts and components.
Day & Night Solar customers and show attendees recognize the many uses for the Sun Commander® Series 8000 ranging from concerned home owners, small businesses, hospitals, first responders, such as fire and police departments, LEED (Leadership in Energy and Environmental Design) project sites, to military applications.
Most generators, when not in use, are put into storage and have required maintenance. Sun Commander®, when not in off-grid use, can be plugged into an existing electrical system and will reduce the usage of power by reducing demand, or pumping power back into the grid.
Focusing on the supply and delivery of optimized electrical systems that promote the concepts of conservation and the rational use of energy using the principles of efficiency, sustainability and reliability, Day & Night Solar looks forward to developing more Showstopper products in the future.
To find out more about the Sun Commander® 8000 Series and Day & Night Solar, visit http://DayAndNightSolar.com.
Featured Product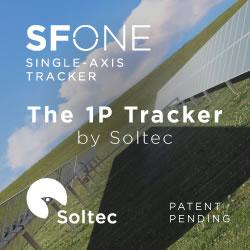 Soltec manufactures and supplies solar trackers designed and proven for extreme climate conditions, which is an ideal solution for any region's environment. Soltec's trackers are self-powered, requiring no additional PV module or grid-powered connection. Bifacial modules collect energy on both the front and rear sides, capturing reflected irradiance from the ground surface under and around the tracker and from other modules. Depending on site conditions, bifacial yield-gain can reach +30 percent.