Corvus signs $12.5 million dollar grid energy storage contract
Beijing, China. -November 26, 2013- Corvus Energy, a leading global manufacturer of high power lithium polymer batteries used in grid, hybrid and 100% electric heavy machinery applications, today announced that it has won the contract for a 10MWh grid-tied energy storage solution to be located in Dunhuang, Gansu Province, China.

The contract was officially signed and was witnessed by British Columbia Premier Christy Clark. Corvus, participating in the Premier's Jobs and Trade Mission 2013 to Asia, inked the deal with partner Dunhaung Libo at a Friends of BC Reception in Beijing.
"A significant part of our Jobs and Trade Mission was showcasing B.C. companies and innovation on the world stage," said Premier Clark. "Corvus' contract means better and more efficient energy storage in Gansu, and economic growth in B.C."
"It is an honour to have Premier Clark bear witness to this exciting contract; it is an important recognition not only of Corvus' place in the international business community, but also as one of BC's hottest technology providers," said Corvus Energy's CEO Brent Perry. "As a relatively young company, we have an international base of customers who look to us for our sustainable capitalism, technology and services to help reduce costs and curb harmful emissions across their operations. We are pleased to be able to offer and deliver this "Made in BC" solution to our partners in the world's largest markets."
Corvus aims to provide reliable, efficient energy storage and distribution for commercial and industrial applications that are good for the planet, good for business. The company is recognized for its experience, market focused discipline, rapid product development and commercialization capabilities.
In China, Corvus will supply energy storage systems that allow the Chinese state grid utility to utilize existing wind and photovoltaic (solar) resources. Due to the variable nature of renewable energy, these state of the art wind farms and solar farms are currently not connected to the grid. With a Corvus Energy storage system integrated, they can now store electricity as it is produced and create a reservoir of energy that may be drawn upon as needed. This electricity reservoir creates a firm baseload of energy that will replicate the output of a coal-fired plant without the associated air pollution.
The company's advanced energy and energy management solutions are used in a range of market segments including grid, off-grid, marine, on-road, communications, rail & locomotives, wind, solar and ground support equipment.
For more information about Corvus Energy, visit www.corvus energy.com.
About Corvus Energy
Corvus Energy, based in Richmond, B.C., Canada provides industrial-sized power in a compact, modular lithium-ion battery system to commercial marine, transportation, ports machinery, remote community, off grid and grid energy markets. Its revolutionary battery packs have the capacity to output sustained power comparable to diesel engines in hybrid and full-electric vessels and vehicles. For more information, please visit www.corvus-energy.com.
Featured Product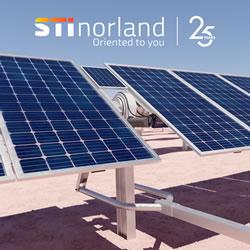 Developed in 2017, the STI-H250™ is consists of two linked torsion beams that rotate simultaneously following the sun's path. They are moved by just one motor, cutting supply and maintenance costs. STI-H250™ dual-row tracker includes backtracking mode to avoid shadowing between adjacent rows and stow function to protect the tracker in extreme wind conditions. For cleaning, vehicles can pass between trackers and each row can be placed in a different position.