The rooftop system was constructed at Edberg-Olson Hall, Temple University's main football practice facility, and is the first of its kind at a college or university in Philadelphia.
SAN FRANCISCO, Dec. 12, 2013 -- ReneSola Ltd ("ReneSola") (NYSE: SOL), a leading brand and technology provider of solar photovoltaic ("PV") products, today announced its collaboration with Community Energy, Inc. ("Community Energy"), a Pennsylvania based developer of clean energy projects. ReneSola provided its high-efficiency PV modules to power the 63KW roof-top solar array installed at Temple University in Philadelphia, PA.

The rooftop system was constructed at Edberg-Olson Hall, Temple University's main football practice facility, and is the first of its kind at a college or university in Philadelphia. The array consists of 268 ReneSola 60-cell high efficiency Virtus II PV modules capable of generating 63KW of photovoltaic power. Power generated by the system is supplied to Community Energy customers.
Mr. Kevin Chen, president of ReneSola America stated, "We are pleased to have partnered with Community Energy and are confident that our products and service will continue to exceed expectations. We are also excited that this opportunity is enabling us to drive growth in the nascent renewable energy sector in Pennsylvania, and expect this project will position us for future growth in the region."
"Long-term reliability is essential to the success of our projects, which is why we choose ReneSola as our module supplier," said Brent Alderfer, president of Community Energy. "We are confident that this project's future revenue streams will lead to a high return on our investment."
Jamie Resor, CEO of groSolar, supplier of technology and equipment to the project said, "We are pleased to have partnered with ReneSola to construct the Temple University solar installation, developed in collaboration with Community Energy. ReneSola lived up to its reputation for providing timely delivery, competitive pricing, and high quality products."
"Temple is proud to contribute to the growth of solar energy in Pennsylvania," said James Creedon, senior vice president of Construction, Facilities and Operations at Temple University. "This partnership with Community Energy enables our university to support the development of renewable energy in our community while avoiding up-front capital costs."
About ReneSola
Founded in 2005, ReneSola (NYSE: SOL) is a leading brand and technology provider of solar PV products. Leveraging its proprietary technologies, economies of scale and technical expertise, ReneSola uses in-house virgin polysilicon and a vertically integrated business model to provide customers with high-quality, cost-competitive products. ReneSola solar modules have scored top PVUSA Test Conditions (PTC) ratings with high annual kilowatt-hour output, according to the California Energy Commission (CEC). ReneSola solar PV modules can be found in projects ranging in size from a few kilowatts to multi-megawatts in markets around the world, including the United States, Germany, Italy, Belgium, China, Greece, Spain and Australia. For more information, please visit www.renesola.com.
About groSolar
groSolar is a leading large commercial and utility scale solar engineering, procurement, and construction (EPC) firm with megawatt+ projects across the US. groSolar's commercial experience spans a broad spectrum including design and build applications atop brownfields, landfills, water/ waste water treatment plants, and manufacturing facilities. In addition, groSolar offers product procurement and logistics services to approximately 1,500 solar installers and contractors across the nation, whose focus is on small to mid-scale commercial solar applications. Through economies of scale and volume purchasing between groSolar's channels, we offer the best value the North America PV industry has to offer.
About Community Energy
Community Energy leads renewable energy development on behalf of retail electric customers and has for more than a decade, developing some of the first wind generation and moving into solar development at scale as technology improved. Solar projects are now under development in Pennsylvania, New Jersey, New York, Massachusetts, Indiana, Maryland, Virginia and North Carolina as well as Colorado and Arizona. Last year Community Energy built the largest solar project in Pennsylvania at a time when very little solar was getting built in the state, and received the Photovoltaic Projects of Distinction Award at PV America East in 2013. Community Energy continues to lead the industry as the only competitive electric supplier invested in development of new renewable generation. For more information visit www.communityenergyinc.com.
Featured Product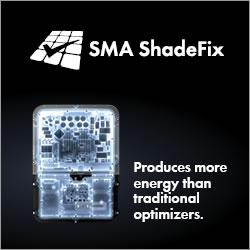 A recent university study showed SMA ShadeFix optimization produces more energy than traditional optimizers. It also utilizes far fewer components, reducing the need for costly service visits. Systems with ShadeFix optimization and SunSpec certified shutdown devices are the ideal solution for residential and commercial PV systems. Visit SMA's website to learn more and download the whitepaper.