Payments processed using geoAMPS software
POWELL, OH - geoAMPS' clients report processing combined payments of more than $1.1 billion by utilizing geoAMPS software products. geoAMPS is only in its third year of operation.

Making ongoing payments on right of way, rent, lease and royalty agreements is an essential part of the operation of alternative energy projects. geoAMPS, a technology company located in the Columbus, OH, area, provides software products which, among other essential capabilities, enhance efficiency in processing those payments.
"We are pleased that our customers who are producing clean, renewable energy have utilized geoAMPS technology to complete a large number of transactions in a relatively short period of time," Yogesh Khandelwal, President and Chief Executive Officer of geoAMPS, said. "It is rewarding for the entire geoAMPS team that our customers in all the industries we serve are experiencing efficiencies through the use of our software."
Due to the many variables associated with land ownership and payments, meeting ongoing payment obligations for a project can be complex and require a great deal with organizational resources.
To meet these complex and changing conditions, organizations resort to various means with varying degrees of success. Many work from spreadsheets, while some still work from paper records. In either case, information must be input manually through each payment cycle. That is a time-consuming process. In addition, many calculations must be done quickly, which increase the chance of error.
geoAMPS software automates the process of meeting ongoing payments. The software includes lease management, automatic reminders, a payment tracker and scheduler capabilities. It automates development, construction, royalty and other types of payments based on complex calculations and varied schedules.
"It is gratifying that our customers are experiencing substantial cost-savings through geoAMPS software," Khandelwal said. "That kind of measurable return on investment can translate into improved profit margins and the incentive to embark on a greater number of projects."
geoAMPS' customers are located in the United States and Canada.
Khandelwal said that geoAMPS is continually improving its payments/financials product module.
Featured Product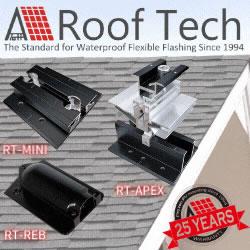 Now Roof Tech brings you the most innovative, watertight mounting systems ever developed for solar photovoltaic systems. Designed and manufactured exclusively for us by Japan's longtime leader in roofing technologies, Roof Tech products are 100% code-compliant and offer fast, simple installation and huge savings on shipping costs due to their compact, rail-less design. Learn more about our full line of versatile PV mounting solutions now available for residential installations. The next generation in rooftop solar mounting solutions."