One-of-a-kind waste-to-energy facility in Rialto, Calif. is sold to Canadian clean energy firm
LOS ANGELES (12/19/13)—Tiger Group's Remarketing Services Division has announced the turnkey sale of the assets of a renewable energy plant in Rialto, Calif., formerly owned by EnerTech Environmental, Inc., to Anaergia Inc., a global leader in the production of clean energy, fertilizer and recycled water from organic waste streams.

Tiger, along with partner Hackman Capital, purchased the facility in July out of an Assignment for the Benefit of Creditors. The companies had scheduled to sell the assets piecemeal at an auction in cooperation with Aaron Equipment. Due to the sale, the webcast auction originally scheduled for November 13 was cancelled.
The $160 million southern California operation—considered the only facility of its kind in the U.S.—includes both a wastewater treatment facility and a sewage sludge drying line. The facility was launched in June 2009 by Atlanta-based EnerTech and was closed by the now-defunct company in October 2012.
Anaergia, which is based in Burlington, Ontario, today announced that it plans to improve efficiencies, upgrade technologies and create a state-of-the-art organics processing facility using proven, best-in-class technologies. These investments will allow the company to expand facility processing capacity in the same footprint, while helping cities manage biosolid challenges and divert organic waste from landfills.
"The management of biosolids from wastewater treatment plant operations is becoming an increasingly complex and expensive challenge for municipalities," said Arun Sharma, President of Anaergia Services LLC, located in Carlsbad, Calif. "This facility will provide a secure, long-term solution for beneficial reuse of biosolids and other organic waste streams."
Commenting on the turnkey sale of the facility, Jeff Tanenbaum, President of Tiger's Remarketing Services Division, said: "For an auctioneer, there's nothing more satisfying than finding an operator for a shuttered facility. Under Anaergia, we expect this facility to realize its potential of providing numerous environmental and economic benefits. This was clearly the optimal solution for a site that appeared headed for dismantling and piecemeal sale."
The Rialto facility was originally built to provide a long-term recycling plan for five municipalities in the Los Angeles region by converting their wastewater sludge into a renewable solid fuel called eFuel. According to former plant management, before running into financial troubles and shuttering operations, the plant had processed approximately 250,000 wet tons of wastewater sludge and produced over 75,000 tons of eFuel pellets, which it sold to local cement kilns and demonstrated in combustion power plant applications.
About Tiger Group
Tiger Group provides asset valuation, advisory and disposition services to a broad range of retail, wholesale, and industrial clients. With over 40 years of experience and significant financial backing, Tiger offers a uniquely nimble combination of expertise, innovation and financial resources to drive results. Tiger's seasoned professionals help clients identify the underlying value of assets, monitor asset risk factors and, when needed, provide capital or convert assets to capital quickly and decisively. Tiger's collaborative, straight-forward approach is the foundation for its many long-term 'partner' relationships and decades of success. Tiger operates main offices in Boston, Los Angeles and New York. To learn more about Tiger, please visit www.TigerGroup.com.
About Anaergia
Anaergia is the global leader in recovering value from waste for the municipal, industrial, and agriculture sectors worldwide. Through its proven portfolio of proprietary technology, Anaergia's s integrated solutions create value for its customers in the forms of clean water, reliable energy, and quality fertilizers while dramatically reducing costs of waste management. Anaergia's international headquarters are located in Burlington, Ontario, Canada, with regional services through 14 offices located in Europe, North America and Asia. Anaergia subsidiaries and affiliates include UTS Biogas Technik in Europe and Pharmer Engineering as well as The Stover Group in the United States. Anaergia technologies are in use at over 1,600 anaerobic digestion plants worldwide, reducing greenhouse gas emissions while creating new revenue sources for our client partners. For more information visit www.anaergia.com or contact:
######
Media Contacts: At Tiger Remarketing Services Division, Jeff Tanenbaum, president, (805) 497-4999, jtanenbaum@TigerGroup.com; at Parness & Associates Public Relations, Bill Parness, bparness@parnesspr.com, (732) 290-0121 or Mobile: 732-673-6852. At Anergia: Mike Stadnyckyj
VP Government Relations & Marketing, +1.905.766.3333 x244, mike.stadnyckyj@anaergia.com
Featured Product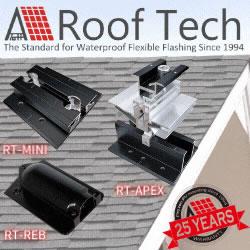 Now Roof Tech brings you the most innovative, watertight mounting systems ever developed for solar photovoltaic systems. Designed and manufactured exclusively for us by Japan's longtime leader in roofing technologies, Roof Tech products are 100% code-compliant and offer fast, simple installation and huge savings on shipping costs due to their compact, rail-less design. Learn more about our full line of versatile PV mounting solutions now available for residential installations. The next generation in rooftop solar mounting solutions."