The new Whole Foods Market in Brooklyn is illuminated by UGE's hybrid wind and solar streetlights and customers can charge cars at UGE's renewable EV charging stations
BROOKLYN, NY, December 19, 2013 - Executing an innovative vision of energy sustainability, Urban Green Energy (UGE) has partnered with national grocery chain Whole Foods Market to develop a groundbreaking renewable energy powered lighting project at Whole Foods Market's new location at Third and 3rd in Brooklyn, NY, scheduled to open in December 2013. The eco-conscious market will be illuminated by UGE's Sanya SLS™ streetlights and customers will be able to charge their electric cars at UGE Sanya Skypump™ charging stations in the market's outdoor area.

Just over a year after the devastation caused by Hurricane Sandy, the energy reliability aspect of this project was instrumental in its development. "In the event of a regional power outage, the Sanya SLS streetlights will continue operating, simply by gathering the energy freely available in the wind and sun," said UGE's Ryan Gilchrist. "We are seeing an increasing number of customers come to us looking for energy reliability solutions, guaranteeing the long term energy security of their sites by implementing innovative applications for energy storage."
Both the UGE streetlights and the charging stations are able to produce more energy than they require, reducing energy consumption at the supermarket while maximizing reliability and sustainability for the community. Taking advantage of the smart grid regulations available in New York State, UGE's power systems contribute to the store's microgrid - feeding energy to the electrical grid and taking only when needed.
The 19 Sanya SLS streetlights and 2 Sanya Skypumps are a highly visible demonstration of Whole Foods Market's commitment to the environment, and complement an exemplary sustainability effort from the supermarket chain. The new store also features solar carports, a rooftop taproom and restaurants that sources its food from local producers, and a rooftop hydroponic greenhouse, built, operated and run by Brooklyn-based Gotham Greens, which will supply fresh greens and tomatoes to customers all year round.
Featuring a HoYi! wind turbine and solar panels, the Sanya SLS streetlights require no supplemental energy source to power the LEDs, reducing installation costs substantially as there is no need for expensive trenching and wiring. The two UGE Sanya Skypumps are a collaborative innovation between General Electric (GE) and UGE, bringing together the technology behind GE's WattStation™ and UGE's Sanya streetlamp. Since its introduction in 2011, the clean energy EV charging station has been installed in various locations around the world.
UGE is an industry leader in renewable-powered off-grid lighting systems, with an international lighting infrastructure portfolio. The newest addition to its growing line of lighting solutions is the Boardwalk. "A perfect complement to the Sanya Series, this hybrid lighting system has a more traditional lighting aesthetic and is ideal for pedestrian areas, bicycle paths and other public spaces," said Tyler Adkins, UGE's Director of Sustainable Lighting Solutions.
Beyond the current installation in Brooklyn, Whole Foods and UGE will continue discussions for implementing wind, solar, and lighting solutions at additional store locations.
About UGE
With projects in over 80 countries, including installations for several Fortune 100 companies, UGE is changing the face of distributed renewable energy at a global scale. Focusing on the enterprise market, our advantage is the ability to rapidly deploy customized renewable energy solutions across global facilities portfolios, leveraging best-in-class integration expertise, and project finance. The solution deployed at each site is custom tailored to customer and site-specific needs by drawing from industry-leading solar PV, proprietary wind technology, energy storage, monitoring, and control systems, which are combined into best in class solutions at the nexus of energy cost, security and sustainability. Our customized energy solutions allow enterprise clients to surpass sustainability goals while serving their bottom line.
###
www.urbangreenenergy.com
Like us on Facebook: www.facebook.com/UrbanGreenEnergy
Watch us on Youtube: www.youtube.com/user/urbangreenenergy
Follow us on Twitter: @Urban_Green
Tweet about this! #BrooklynLights #UGE #thirdand3rd
---
Press Contact
Mateo Chaskel
UGE (New York)
+1 917 720 5685
mateo.chaskel@urbangreenenergy.com
Featured Product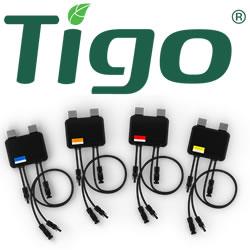 Tigo will announce the new product launch of the patented UHD-Core TS4-A (Advanced Retrofit/Add-on) Platform at SPI 2019. The new TS4-A-M (Monitoring) & TS4-A-S (Safety) units have improved lightweight hardware and lower labor costs to address a range of functions and budgets. The TS4-A-M allows module-level monitoring via Tigo's SMART Website & App. The TS4-A-S is UL-certified as a rapid shutdown solution for residential and C&I PV system. Both units join the Tigo's multivendor solution that works with almost any inverter and smart module in the global PV market. Contact sales@tigoenergy.com for pricing, shipping, and availability in Q4'19.