Devices Offer High Ripple Current to 2.80 A Over Full Lifetime for Solar Inverter and Industrial Motor Control Applications
MALVERN, Pa. — Dec. 19, 2013 — Vishay Intertechnology, Inc. (NYSE: VSH) today announced that it has extended its 159 PUL-SI series of snap-in power aluminum capacitors to a high rated voltage of 500 V at +105 °C. Designed for solar PV inverters, industrial motor controls, and power supplies, the enhanced devices feature a long useful life, high ripple current to 2.80 A and +105 °C, and max. ESR down to 150 mΩ at 100 Hz.

Featuring a cylindrical aluminum case with a pressure relief valve, insulated with a blue sleeve, the new Vishay BCcomponents snap-in capacitors released today are available in a variety of case sizes ranging from 22 x 25 mm to 35 x 60 mm. At 500 V, the devices feature a maximum operating temperature to +105 °C and useful life of >3,000 hours.
As polarized aluminum electrolytic capacitors with a non-solid electrolyte, the 159 PUL-SI series devices are ideally suited for smoothing, filtering, and energy storage in pulsed power applications. The capacitors are also available in a keyed polarity snap-in version.
Samples and production quantities of the 159 PUL-SI series capacitors are available now, with lead times of 10 to 12 weeks. Pricing for U.S. delivery depends on type and quantity and ranges from $1 to $10 per piece.
Featured Product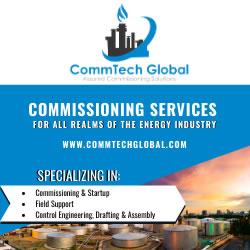 CommTech Global Solutions, LLC, provides professional and reliable commissioning services to customers in all realms of the energy industry. We blend our skills in engineering and technology with innovative business models, offering a complete range of services to assist you for a successful and in compliance operational startup. Consolidation of all our service domains gives our clients a comprehensive set of expertise and far-reaching experience on each project.