Devices Offer High Ripple Current to 2.80 A Over Full Lifetime for Solar Inverter and Industrial Motor Control Applications
MALVERN, Pa. ó Dec. 19, 2013 ó Vishay Intertechnology, Inc. (NYSE: VSH) today announced that it has extended its 159 PUL-SI series of snap-in power aluminum capacitors to a high rated voltage of 500 V at +105 °C. Designed for solar PV inverters, industrial motor controls, and power supplies, the enhanced devices feature a long useful life, high ripple current to 2.80 A and +105 °C, and max. ESR down to 150 mΩ at 100 Hz.

Featuring a cylindrical aluminum case with a pressure relief valve, insulated with a blue sleeve, the new Vishay BCcomponents snap-in capacitors released today are available in a variety of case sizes ranging from 22 x 25 mm to 35 x 60 mm. At 500 V, the devices feature a maximum operating temperature to +105 °C and useful life of >3,000 hours.
As polarized aluminum electrolytic capacitors with a non-solid electrolyte, the 159 PUL-SI series devices are ideally suited for smoothing, filtering, and energy storage in pulsed power applications. The capacitors are also available in a keyed polarity snap-in version.
Samples and production quantities of the 159 PUL-SI series capacitors are available now, with lead times of 10 to 12 weeks. Pricing for U.S. delivery depends on type and quantity and ranges from $1 to $10 per piece.
Featured Product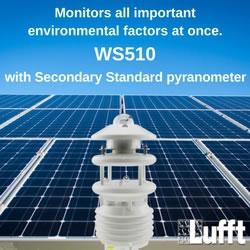 First and only Smart Weather Sensor with integrated Kipp & Zonen CMP10 Pyranometer (secondary standard). From the WS product family of professional intelligent measurement transducers with digital interface for environmental applications. Integrated design with ventilated radiation protection for measuring: Air temperature, relative humidity, air pressure, wind direction, wind speed and radiation. One external temperature or rain sensor is connectable.