2013: World's market leader for solar tracking realizes large projects –additional yields through MLD technology scientifically proven
Horb a.N., December 20, 2013. As the world's market leader for solar tracking DEGER was not only able to stand its ground in 2013 despite a very difficult market environment, but was even able to add several more to its list of successes. Thus comparative measurements conducted by the reputed Fraunhofer Institute for Solar Energy Systems (ISE) at the Horb-Rexingen solar park demonstrated that MLD systems from DEGER provide for more yield than other solar systems – particularly in winter. In this context in 2013 the company equipped a megawatt solar park in Sweden with its systems along with several other megawatt sized projects across the entire world. In the year to come DEGER plans to develop its position in North America even further.

Where there is low irradiation and diffuse light DEGER solar tracking systems with MLD sensor technology can produce more solar energy than other tracking systems. This energy increase is greatest when the sun is located at middle to low positions – thus particularly in the months of winter. These are the results of a two-year comparative measurement conducted by Fraunhofer Institute for Solar Energy Systems (ISE), Freiburg, at the Horb-Rexingen solar park, which was concluded in 2013 (Source: Fraunhofer ISE Report PMZ940-Adr-1201-V1.01).
Thus it is clear that compared with fixed and astronomically tracked systems, MLD systems from DEGER are superior at all locations around the globe. Solar modules equipped with sensor technology "made in Germany" yield significantly more energy than other systems, particularly in the early morning hours and in the evening. The positive effect is even more remarkable at locations further away from the equator such as, for instance, in North America or Northern Europe. For these reasons DEGER systems are particularly ideal for generating solar energy for power consumption as they make a particularly large amount of solar electricity available for direct consumption during off-peak periods of the day as well.
Reference projects realized
Among other projects that were realized with DEGER technology in 2013 is a solar park in Swedish Västeras, approximately one hundred kilometers northwest of Stockholm. The local company Kraftpojkarna built the park and equipped it with a total of 92 D100-type new generation DEGER trackers. The energy produced in Västeras is used by the local power supplier. Thus both the operator and the power company benefit from the fact that DEGER MLD technology provides for more yield than other photovoltaic systems particularly in conditions where there is low irradiation and diffuse light.
The reference projects in North America include the DEGER installation at the Heritage Center of Oak Ridge National Laboratory in Tennessee. At the opening celebration for the solar project German Consul General Christoph Sander was in attendance along with leading figures from American politics and industry.
The Oak Ridge science and technology laboratory operates under the authority of the United States Department of Energy. The German Energy Agency (dena) provided support to the research and development project connected with the DEGER trackers within the scope of the dena Solar Roofs Program. Adam Jan Glapiak, Area Sales Manager for the North American market at DEGERenergie: "MLD technology 'made in Germany' has gained a lot of attention here and has an excellent reputation among American experts. It is no coincidence that further projects have been realized in the U.S. following the huge amount of coverage in the media."
The fact that DEGER technology receives worldwide attention is reflected in the delegations and visitors who obtained information about the company and its products on location this year as well. Among others DEGER welcomed delegations from Poland, Kazakhstan and Uzbekistan, and from the region of Waterloo, Ontario, as well as Malaysia.
New model generation provides for greater yield
DEGER boosted the additional yield of its systems where there is low irradiation once again with a new model generation in 2013: The new system family D60H, D80 and D100 can align the attached modules even more precisely to the brightest, and thus highest-energy position during off-peak periods of the day. This is made possible through the greater angle of elevation which now ranges from 10° to 90°. In addition, the new family system features advanced EK-6 energy converters and the newly programmed MLD sensor. These improvements mean that this new generation of trackers obtains greater yields even with less sunlight – for example, at sunup and sundown.
At the conclusion of the year now coming to a close DEGER developed a new single-axis S60H tracked system with MLD technology particularly for utility projects in the multi-megawatt range. The new model is designed for module surfaces of up to 42 square meters and like all DEGER systems operates with an MLD control unit. The single-axis system obtains approximately 30 percent more yield than fixed installations. The S60H will be available on the market at the beginning of the year 2014.
Headquarters for North America in Ontario
In order to be prepared for the growing markets in North America DEGER is currently expanding its business location in Ontario, Canada. Service technician William Sawyer is already on board, and will soon be joined by a second colleague. In the months to come DEGER will rent its own warehouse and office in Ontario in order to be able to respond better to the market. Over the medium-term the company plans to develop the business location into its new headquarters for North America.
Featured Product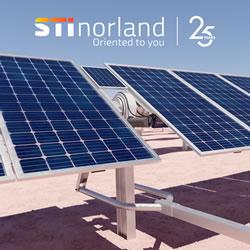 Developed in 2017, the STI-H250â"¢ is consists of two linked torsion beams that rotate simultaneously following the sun's path. They are moved by just one motor, cutting supply and maintenance costs. STI-H250â"¢ dual-row tracker includes backtracking mode to avoid shadowing between adjacent rows and stow function to protect the tracker in extreme wind conditions. For cleaning, vehicles can pass between trackers and each row can be placed in a different position.