New High Density Devices Ideal for Communications, Industrial, Medical and Military Applications ----Single Module with Dual 12-Amp Outputs Achieves Higher Density Versus Two Individual Modules
DALLAS—Dec. 19, 2013—GE's Critical Power business (NYSE: GE) today introduced its UDXS1212 non-isolated point of load (POL) DC-DC board-mounted power module, offering an industry-leading 30 percent reduction in board space over previous and competing solutions. The new DLynx* Series power modules include GE's PMBUS* interface for digital configuration, communication and control, as well as adaptive voltage scaling for power reduction. These features provide exceptional power density in a single, flexible module. For more product details, visit www.dlynx.com.

The new UDXS1212 power module offers original equipment manufacturers (OEMs) a high-density solution by utilizing two 12-amp parts in a single module instead of two individual modules. This greatly reduces the amount of board space required for installation of the module. In addition, the module provides exceptional current de-rating over temperature, which enables the device to achieve full load (up to 85 degrees Celsius) without external airflow for most application voltages.
"GE's latest innovation provides a time-to-market and ease-of-use advantage over discrete solutions," said Karim Wassef, general manager—embedded power products, GE's Critical Power business. "In addition, the UDXS1212's innovative integration techniques provide a significant size advantage, making it an ideal offering for a wide range of vertical markets."
The UDXS1212's industry-standard PMBus interface and space-saving Tunable Loop™ technology deliver leading current density for a broad range of applications including data communications, telecommunications, storage, industrial, medical and military infrastructure equipment. Additional features and benefits of GE's UDXS1212 POL modules include:
*Broad input range of 4.5 volts to 14.4 volts and a precisely regulated output voltage from 0.51 volts DC to 5.5 volts DC.
*PMBUS digital interface supports a wide range of commands including on/off, trim, margin, power good, rise time adjustment and input under voltage lockout. Digital interface also offers output voltage, current and temperature measurement capabilities.
*Tunable Loop technology enables the user to optimize dynamic response to match the load with reduced output capacitance.
*New synchronization features and remote sensing make designing for strict noise and set point requirements easier and more accurate.
*Single micro-sized module (20.3 millimeters by 11.4 millimeters) providing two 12-amp outputs (132 watts maximum) achieves a higher density versus two individual modules, saving valuable board space and reducing cost.
*Supports 12 amps at 1.2 volts up to 80 degrees Celsius without airflow.
*Interleaved 180 degrees out-of-phase to reduce input ripple when both outputs are operating.
Availability and pricing
GE's UDXS1212 POL modules are available in volume quantity, with pricing beginning at $14.89 at OEM volumes. For more information, please call +1 877 546 3243 or +1 972 244 9288.
GE's Critical Power business provides mission-critical applications with end-to-end power product and service solutions specifically designed to maximize uptime while improving energy efficiency. The solutions offered by the Critical Power business add to GE's broader Industrial Solutions portfolio of leading technologies designed for the delivery, management and optimization of electrical power for customers across multiple industries. To learn more about GE's Critical Power business, visit: www.gecriticalpower.com.
About GE
GE (NYSE: GE) works on things that matter. The best people and the best technologies taking on the toughest challenges. Finding solutions in energy, health and home, transportation and finance. Building, powering, moving and curing the world. Not just imagining. Doing. GE works. For more information, visit the company's website at www.ge.com.
Featured Product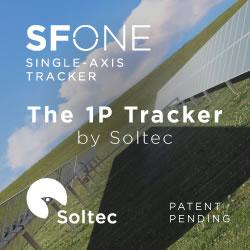 Under the slogan "engineered for greatness", the SF8 tracker aims to revolutionize the photovoltaic market with its new minimum 2x60 configuration and 4 to 6-strings. This tracker is elegantly designed while it reinforces its structure to perform in any terrain. In addition, the SF8 tracker increases the rigidity of its structure by 22% more than the previous generation of Soltec trackers, the SF7. The SF8 is specially designed for larger 72 and 78 cell modules, an increasing market trend.