As 2013 comes to a close, U.S. companies are seeing strong geothermal growth in new places around the world.
Washington, D.C. (December 23, 2013)—As the geothermal industry wraps up an exciting and challenging year, the sector has positioned itself to grow more by 2020 than ever before. "We are seeing new technology developments move forward and new projects being announced in every region of the world," remarked Karl Gawell, Executive Director, Geothermal Energy Association. "Despite slow growth in the United States, the global market continues to gain steam. So, many American geothermal companies are using their industry know-how in friendlier economic and political climates overseas."

Industry milestones: This year, the industry surpassed 12,000 MW of geothermal power operational, with about 600 MW of new geothermal power coming online globally. New geothermal power came on line in Kenya, New Zealand, Nicaragua, Turkey, and Mexico, as well as Oregon, Nevada and Utah in the United States. New announcements in the United States, Ethiopia, Kenya, the Caribbean and others have increased the developing resource of geothermal power to about 30,000 MW.
As 2013 comes to a close, U.S. companies are seeing strong geothermal growth in new places around the world. In September, GEA identified 70 countries moving forward with nearly 700 geothermal power projects, compared to a similar report from 2007 that showed only 46 countries developing or actively considering geothermal projects.
International opportunities: The international geothermal power industry is poised to place between 500 and 1,000 MW on line per year for the rest of the decade. This year new geothermal geologic studies or exploration moved forward in places as diverse as American Samoa, Argentina, Armenia, Australia, Azerbaijan, El Salvador, Ethiopia, Indonesia, Japan, Malaysia, Rwanda, Saudi Arabia, St. Vincent and the Grenadines, Taiwan, Thailand, Uganda, the United States, and Yemen.
As states and nations consider fossil fuel replacements, geothermal energy's unique benefits make it a worthy contender in the changing power sector. At the same time, projects abroad are providing the industry's top companies, many of which gained their expertise within the United States, with opportunities to stay competitive. Regional financial institutions, country and provincial governments as well as executives in both small and large businesses who are considering energy choices would do well to take a look at geothermal power. There is a growing global consensus that geothermal means clean, reliable energy.
Financing and early development: Financing was announced for projects in Costa Rica, Dominica, Djibouti, Ethiopia, Indonesia, Japan, Kenya, Mexico, Tanzania, and the United States, while projects in drilling and start-of-construction phases made headway in Chile, Germany, Guatemala, Italy, Japan, Montserrat, The Philippines, Rwanda, and Zambia.
GEA member commitments to financing and development stages included MidAmerican's $1 billion pledge to extend the life of its Salton Sea, California geothermal fields. Additionally, Alstom will build the 25-MW Los Humeros III in Mexico, and Alterra Power announced drilling would begin at its Mariposa, Chile site next year. US Geothermal is building the El Ceibillo geothermal power plant in Guatemala, and Ram Power is at work on the Jacinto-Tizate geothermal power project in Nicaragua.
Technology advancements: The industry's knowledge about Enhanced Geothermal Systems (EGS) increased in 2013. Successful EGS projects in the U.S. were led by Calpine Corp., Ormat Technologies and AltaRock Energy. Elsewhere, Australia put its first EGS pilot plant, a 1-MW trial, on line at Habanero. In Europe, there were EGS advancements in Hungary, the United Kingdom and Switzerland.
Additionally, the 22-MW Neal Hot Springs, Oregon plant received the GEA Honors Technological Advancement Award in 2013 for being the first commercial, supercritical Organic Rankine Cycle (ORC) binary power plant. It was built by US Geothermal and TAS Energy.
Policy: At the beginning of 2013, geothermal tax credits were adjusted to qualify projects at the construction stage. There are a number of projects that will benefit from this that might not have been built otherwise. While national energy policy was gridlocked, several individual U.S. states opened up new opportunities in 2013:
· Hawaii Electric Light Company completed a geothermal Request for Proposals and is soon expected to announce the winner out of six bidders.
· In California, the Imperial Irrigation District announced plans to develop 1,700 MW of new geothermal as part of an initiative supporting restoration of the Salton Sea.
· In Nevada, NV Energy is looking to replace coal plants with 300 MW of renewable energy, including geothermal.
· Other states are also looking to replace fossil fuel plants in order to meet new federal standards on environmental cleanliness.
Only in the last month of the year have there been signs of change in Washington D.C., with a bipartisan, bicameral budget deal in the Congress and a new clean energy tax proposal by Senate Finance Chair Max Baucus (D-MT). "The budget deal could open the door to finishing appropriations bills, which could reinvigorate the DOE research program," Gawell said. "And the Baucus tax paper breathes new life into efforts to establish long-term incentives for geothermal and other clean power technologies."
Outlook
GEA President Craig Mataczynski of Gradient Resources has challenged the industry to reach 5 percent of total U.S. electricity production. To reach this goal it will take advancements in geothermal technology and recognition of the full value of geothermal power. "As policy makers at the state and federal level move to address global warming and need to achieve significant emissions reductions, geothermal power's unique abilities to replace baseload fossil fuels or firm intermittent resources provides premium value to fulfill state Renewable Portfolio Standard requirements and meet federal environmental standards," Gawell said.
Events in 2014
GEA hosted several events throughout 2013 that brought together the international geothermal market and helped companies and individuals form partnerships that advance the sector.
GEA Events in 2014 will include:
· International Geothermal Energy Forum (Washington, DC): April 22, 2014
· National Geothermal Summit (Reno, NV): August 5–6, 2014
· Geothermal Energy Expo 2014 (Portland, OR): September 28–October 1, 2013
To learn more about GEA's 2014 Sponsorship Opportunities, visit http://www.geo-energy.org/new_expo/pdf/GEA2014SponsorshipOpps1.pdf.
For more information or to schedule an interview with a GEA representative, please contact Shawna Seldon at Shawna@rosengrouppr.com or 917 971 7852.
About the Geothermal Energy Association:
The Geothermal Energy Association (GEA) is a trade association comprised of U.S. companies that support the expanded use of geothermal energy and are developing geothermal resources worldwide for electrical power generation and direct-heat uses. GEA advocates for public policies that will promote the development and utilization of geothermal resources, provides a forum for the industry to discuss issues and problems, encourages research and development to improve geothermal technologies, presents industry views to governmental organizations, provides assistance for the export of geothermal goods and services, compiles statistical data about the geothermal industry, and conducts education and outreach projects. For more information, please visit www.geo-energy.org. Subscribe to GEA's newsletter here. Follow GEA on Twitter. Become a fan on Facebook.
Featured Product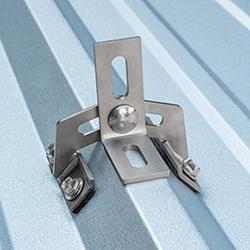 They have been changing the game for 10 years with their original Top Mount line for Asphalt Shingle roofs, and by now supplying one of the widest ranges of solar mounts in North America. From their patented products, to the custom production services they offer, QuickBOLT has been working with solar installers for nearly a decade to make solar installations easier than ever before.