Through DonorsChoose, First Wind supports teachers and their innovative classroom projects in its host communities.
BOSTON--First Wind, an independent U.S.-based renewable energy company, today announced that it has once again partnered with teachers in local classrooms in the company's host communities to make contributions toward local education projects. In May 2012, First Wind began a strategic partnership with DonorsChoose.org in order to enhance the value of the company's financial contributions in host communities. After a successful partnership during its first year, First Wind extended the relationship in 2013 and increased its funding to $15,000.

Through DonorsChoose, First Wind supports teachers and their innovative classroom projects in its host communities. In its second full year, First Wind funded 43 projects at 31 schools, which reached and positively touched nearly 2,600 students. For example, First Wind donated funds toward a project to supply graphing calculators for a pre-calculus classroom in Mars Hill, Maine, which is near the Mars Hill project. First Wind also donated funds to a classroom in Cedar City, Utah, which is near the Milford Wind projects, to help the classroom purchase books to implement the S.T.E.A.M. program (Science & Technology interpreted through Engineering & the Arts, all based in Mathematical elements).
"As we continue to grow, First Wind is committed to being an active community member and we want to help support innovative and exciting educational projects in our host communities," said Carol Grant, Senior Vice President of External Affairs at First Wind. "This program starts with the good idea of a teacher in one of our communities. Our contribution is to support that idea and help bring it to life. We're glad to have a small part in helping these inspiring teachers and their students."
First Wind has donated to classrooms in or near many of the communities where it has projects, including Sheffield and Lyndonville, Vermont; Danforth, Maine; Beaver, Utah; Boston, Massachusetts; Kahuku, Hawaii; Tekoa, Washington; and other communities.
Some additional examples of supported projects include:
*A donation to be used to purchase a document projector to assist in teaching students in their fourth grade math class at Kahuku Elementary School in Kahuku, Hawaii.
*A donation to Pine Street Elementary School in Presque Isle, Maine to help provide basic classroom supplies to pre-kindergarten children.
*At Lyndon Town Elementary School in Lyndonville, Vermont, First Wind funded a project request for inquiry based kits and materials to conduct experiments to learn about renewable and non-renewable sources of energy.
*At Sunnyside Elementary School in Pullman, Washington, a teacher sought to help his students explore a hidden world with their own eyes. First Wind's contribution helped buy microscopes for a fifth grade science class.
*At Beaver High School in Beaver, Utah, a teacher requested funding to build a take-home library to aid her students in developing reading skills. First Wind's contribution helped purchase 99 books of varying reading levels.
"Thank you so much for your donation. Our school has limited funding, especially for anything in addition to what is required. Your donation makes it possible for the students in my classroom to experience their learning hands-on. This allows students to deepen their knowledge and understanding of the curriculum. Once again, thank you so much for your support of our school and the vision to create a better future generation," said Mrs. Heidi Thomas of Milford Elementary School in Milford, Utah who wrote the response on the First Wind DonorsChoose webpage.
Visit First Wind's DonorsChoose.org page at http://www.donorschoose.org/firstwind.
About First Wind
First Wind develops, finances, builds and operates utility-scale renewable energy projects throughout the United States. Based in Boston, First Wind currently operates wind power facilities in the Northeast, the West and Hawaii, with combined capacity of more than 1,000 megawatts (MW) – enough to power about 300,000 U.S. homes each year. For more information on First Wind, please visit www.firstwind.com or follow us on Twitter @FirstWind.
About DonorsChoose.org
Founded in 2000, DonorsChoose.org is an online charity that makes it easy for anyone to help students in need. Public school teachers from every corner of America post requests, and individuals can give directly to the ones that inspire them. To date, 172,000 public and charter school teachers have used DonorsChoose.org to secure $118 million in books, art supplies, technology, and other resources that their students need to learn. Visit www.donorschoose.org/intro to hear Oprah Winfrey and Stephen Colbert tell the DonorsChoose.org story.
Featured Product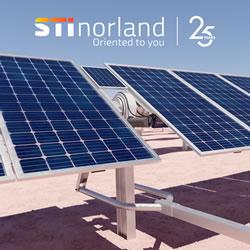 Developed in 2017, the STI-H250™ is consists of two linked torsion beams that rotate simultaneously following the sun's path. They are moved by just one motor, cutting supply and maintenance costs. STI-H250™ dual-row tracker includes backtracking mode to avoid shadowing between adjacent rows and stow function to protect the tracker in extreme wind conditions. For cleaning, vehicles can pass between trackers and each row can be placed in a different position.