Scheduled to be built in multiple phases over a four year time frame starting from early 2014
CHANGZHOU, China, Dec. 30, 2013 -- Trina Solar Limited ("Trina Solar" or the "Company"), a global leader in photovoltaic ("PV") modules, solutions, and services, today announced that it has signed an investment framework agreement with the local government authority of Turpan Prefecture to develop a 1GW ground-mounted solar power plant project in western China's Xinjiang Region.

Under the agreement, the solar power plants totaling 1GW are scheduled to be built in multiple phases over a four year time frame starting from early 2014. The commencement of each phase of development is subject to certain conditions, including approvals from the local government and State Grid. The first two phases of the project, with installed capacity of 300 MW, are scheduled to be completed and connected to the grid by the end of 2014, subject to receipt of the required approvals. Upon receiving approval for phase one, Trina Solar will also invest in the construction of a PV module production facility in the local area to supply modules to the solar power plants.
"Trina Solar's position as a global PV industry leader makes us the ideal partner for this exciting new project, which upon completion is slated to be the largest solar power plant project in Xinjiang," said Mr. Jifan Gao, chairman and CEO of Trina Solar. "Xinjiang's abundant land and solar resources make Turpan an ideal location for this project."
Mr. Gao added, "The solar plants will ensure a stable supply of clean energy and improve reliability of electricity supply to the surrounding regions. At the same time, the module production facility will also create jobs and stimulate the growth of the local economy. We look forward to working in close collaboration with the local authorities to satisfy the conditions needed for phase one to commence in the first quarter of 2014."
About Trina Solar Limited
Trina Solar Limited (NYSE: TSL) is a global leader in photovoltaic modules, solutions and services. Founded in 1997 as a PV system integrator, Trina Solar today drives smart energy together with installers, distributors, utilities and developers worldwide. The company's industry-shaping position is based on innovation excellence, superior product quality, vertically integrated capabilities and environmental stewardship. For more information, please visit www.trinasolar.com.
Featured Product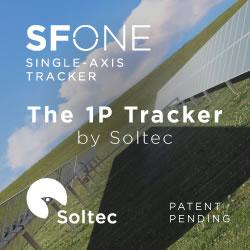 Under the slogan "engineered for greatness", the SF8 tracker aims to revolutionize the photovoltaic market with its new minimum 2x60 configuration and 4 to 6-strings. This tracker is elegantly designed while it reinforces its structure to perform in any terrain. In addition, the SF8 tracker increases the rigidity of its structure by 22% more than the previous generation of Soltec trackers, the SF7. The SF8 is specially designed for larger 72 and 78 cell modules, an increasing market trend.