Ensupra Solar team is installing 100KW of solar panels at a commercial building in Houston, Texas. The company has been installing solar panels on commercial and residential buildings across the USA.
Houston, Texas December 31, 2013

EnsupraSolar performed detailed energy consumption analysis of the building and found out the areas to improve energy efficiency. A list of measures for energy conservation at Viswa Lab was listed. A cost-benefit analysis was done for each measure, resulting with finalized measures for implementing technologies to reduce consumption without compromise of the building energy use. This resulted in making the building more energy efficient and the solar project yielded better financial pay back. The solar panels are being installed on this commercial building roof.
Viswa Lab is expected to get close to Net Zero Energy with Ensupra Solar's power. The system will use grid tie inverters, which will interact with the local utility power grid. When the solar panels generate more power than the building needs, the excess power will feed the electrical grid, rotating the meter backwards.
Viswa Lab expects that the 100KW system will cut back a good portion of the building's consumption, and will allow excess power to feed back to the grid, whenever possible. The business is expected to earn 30% Federal Tax Solar Credit and the 5-Year Accelerated Deprecation provided for solar power by the federal government.
Ensupra Solar's team has installed more than one thousand residential and commercial solar power plants across the United States. The company has also installed solar plants in Singapore and India.
ABOUT ENSUPRA SOLAR
Ensupra Solar Llc is a USA based multinational solar power corporation that focuses on appropriate innovative renewable energy products with an aim to solve energy and environment issues of the world.
Its major product, PluggedSolar,™ is a DIY kit that typically installs in one day. It plugs into the regular wall socket as one plugs any appliance. The DIY kit is pre-configured and pre-wired system that reduces the cost of solar, making the installation simple, saving the homeowners more than half of the typical solar installation cost.
Featured Product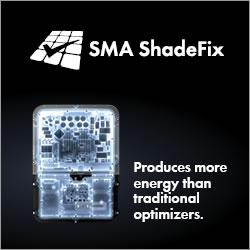 A recent university study showed SMA ShadeFix optimization produces more energy than traditional optimizers. It also utilizes far fewer components, reducing the need for costly service visits. Systems with ShadeFix optimization and SunSpec certified shutdown devices are the ideal solution for residential and commercial PV systems. Visit SMA's website to learn more and download the whitepaper.