The introduction of the new materials will result in substantial cost savings for future tidal blade designs
British composites engineering company Aviation Enterprises Ltd. (AEL) has announced the availability of 3rd generation out-of-autoclave carbon/epoxy composites for tidal blade spars and other large highly loaded structures. The introduction of the new materials will result in substantial cost savings for future tidal blade designs:- They are quicker to process and offer substantially higher performance than their predecessors at no increase in cost/kg.

Whilst superficially similar to the 2nd generation prepreg materials used to date, the 3rd generation materials take advantage of a new high toughness resin that is particularly resistant to moisture ingress. The incorporation of these materials in a special format ensures near-autoclave laminate quality whilst enabling the elimination of interim debulks during layup. Consequent labour savings of approximately 30% are anticipated during lamination, and typical real world performance gains of 18% (tension) and 36% (compression) are achievable due to the optimisation of ply thickness and careful focus on critical laminate details.
The new materials are supported by comprehensive accredited test data, covering fatigue performance and the effects of seawater immersion in addition to more routine information. This development is the latest result of AEL's ongoing tidal blade development programme which has involved significant collaborations with suppliers and universities, and has been assisted by the Carbon Trust and Technology Strategies Board.
AEL serves aerospace, industrial, renewable & offshore sectors and is the world leader in the design and manufacture of tidal turbine blades. It offers an integrated service, with in house design, analysis, tooling, prototyping, testing & manufacture and welcomes novel and challenging projects.
Featured Product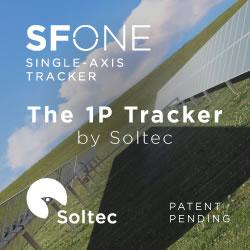 Under the slogan "engineered for greatness", the SF8 tracker aims to revolutionize the photovoltaic market with its new minimum 2x60 configuration and 4 to 6-strings. This tracker is elegantly designed while it reinforces its structure to perform in any terrain. In addition, the SF8 tracker increases the rigidity of its structure by 22% more than the previous generation of Soltec trackers, the SF7. The SF8 is specially designed for larger 72 and 78 cell modules, an increasing market trend.