The AEG PS Group experienced close to 11% decrease in revenue from 2011 to 2012, and is expecting another decrease by 25% in 2013 as announced in its Q3 interim management report.
LANNION, France--

To face the challenges raised by the decrease in revenue and losses in operations, AEG Power Solutions have decided to focus their business on their core areas of competitive strength in delivering high quality power systems and solutions for infrastructure, industrial and demanding commercial applications and advanced solutions for renewable energies and next generation distributed power generation. In this process, the Group is readjusting its footprint and has decided to place in liquidation its entity in Lannion (France), which can no longer be financially supported.
The AEG PS Group experienced close to 11% decrease in revenue from 2011 to 2012, and is expecting another decrease by 25% in 2013 as announced in its Q3 interim management report.
The Group EBITDA was down 66% in 2012 compared with 2011 and as announced in the interim Q3 report, losses are expected for 2013.
In this context, the Board of 3W Power, the holding company of AEG Power Solutions and its new Chairman, Dr. Dirk Wolfertz, have announced the appointment of Jeffrey Casper, Chief Financial Officer of the Group, as Chief Restructuring Officer, in charge of leading a recovery program for the company.
To secure the business, AEG Power Solutions must adjust its structure to fit within its financial capabilities and is forced to close its business in Lannion (France) which was structurally losing money.
Lannion's management announced this morning to the local works council its intention to file for bankruptcy protection for the entity.
The group cannot support the losses of Lannion nor finance the cash flow required to run the entity which would be €6 million for the first half of 2014.
Lannion's cumulated losses (EBITDA) over 5 years have reached €27 million, out of which €11,1 million over the last 2 years. Up to now, these losses have been fully supported by the Group.
Though it is clear that AEG Power Solutions cannot finance any initiatives proposed by the bankruptcy court, the Group will consider every possibility to redeploy employees from Lannion in other entities if competencies match future needs. AEG PS will allow any intellectual property rights linked to the Lannion business to contribute to selling of assets. AEG is a brand under license of Electrolux and cannot be used further by Lannion, so the entity will be run as of today under its former denomination of Harmer & Simmons.
The case will be filed on January 8 at Saint –Brieuc commercial court.
About AEG Power Solutions
AEG Power Solutions (AEG PS) Group is a global provider of power electronics systems and solutions for all industrial power requirements offering one of the most comprehensive product and service portfolios in the area of power conversion and power control. Two complementary operating business segments, Renewable Energy Solutions (RES) and Energy Efficiency Solutions (EES) serve customers worldwide. The RES product and service portfolio consists of systems and solutions for solar power plants, such as solar inverters, monitoring and control systems as well as power controllers for a wide range of industrial applications such as polysilicon, energy storage, sapphire and glass. The EES product and service portfolio includes high-performance uninterruptable power supplies (UPSs), industrial chargers and DC systems.
Thanks to its distinctive expertise bridging both AC and DC power technologies and spanning the worlds of both conventional and renewable energy, the company creates innovative solutions for smart grids.
AEG PS' global footprint includes 22 facilities and offices around the world with 1,600 employees.
AEG Power Solutions Group is the sole subsidiary of the holding company 3W Power S.A. (WKN A0Q5SX / ISINLU0953526265), based in Luxembourg. The Group is headquartered in Zwanenburg in the Netherlands. The shares of 3W Power are admitted to trading on Frankfurt Stock Exchange (ticker symbol: 3W9).
For more information, visit www.aegps.com.
Featured Product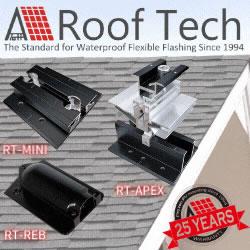 Now Roof Tech brings you the most innovative, watertight mounting systems ever developed for solar photovoltaic systems. Designed and manufactured exclusively for us by Japan's longtime leader in roofing technologies, Roof Tech products are 100% code-compliant and offer fast, simple installation and huge savings on shipping costs due to their compact, rail-less design. Learn more about our full line of versatile PV mounting solutions now available for residential installations. The next generation in rooftop solar mounting solutions."