By ACEEE Executive Director Steven Nadel
As 2013 draws to a close, it's useful to reflect back on the past year and look forward to the coming one. Despite political and economic headwinds, the states and federal and local governments continued to make progress on energy efficiency policies in 2013. Among the states, Mississippi and Louisiana decided to begin utility programs, and Connecticut and Maine passed legislation to advance efficiency initiatives. Seven states adopted one of the latest model building energy codes, and eight states signed a memorandum of understanding on actions to put 3.3 million plug-in electric and fuel cell vehicles on the road by 2025.

On the federal level, the Department of Energy and the Office of Management and Budget made real progress on ending the backlog of new equipment efficiency standards, with new standards finalized for distribution transformers and microwave ovens, and many draft standards issued. President Obama announced a climate change action plan that includes a variety of actions to advance efficiency. Bipartisan energy efficiency legislation was reported out of the Senate Energy Committee and was brought to the floor for debate. It has not yet come to a vote since some senators chose to use the floor time to insist on votes on unrelated amendments.
Progress also continues at the local level with many local governments pursuing comprehensive approaches to energy efficiency and some developing new policy and program initiatives. For example, Chicago adopted an innovative policy to improve residential energy use disclosure while also becoming the ninth and most recent U.S. city to require commercial building energy disclosure...
To continue reading the blog post visit: http://aceee.org/blog/2014/01/significant-progress-energy-efficienc
About ACEEE: The American Council for an Energy-Efficient Economy acts as a catalyst to advance energy efficiency policies, programs, technologies, investments, and behaviors. For information about ACEEE and its programs, publications, and conferences, visit aceee.org.
Featured Product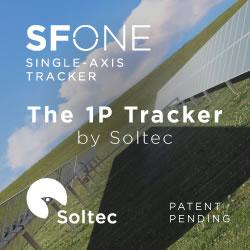 Soltec manufactures and supplies solar trackers designed and proven for extreme climate conditions, which is an ideal solution for any region's environment. Soltec's trackers are self-powered, requiring no additional PV module or grid-powered connection. Bifacial modules collect energy on both the front and rear sides, capturing reflected irradiance from the ground surface under and around the tracker and from other modules. Depending on site conditions, bifacial yield-gain can reach +30 percent.