ReneSola's 300W polycrystalline modules power numerous large-scale Strata Solar developments in 2013
SAN FRANCISCO, Jan. 9, 2014 -- ReneSola Ltd ("ReneSola") (NYSE: SOL), a leading brand and technology provider of solar photovoltaic ("PV") products and solar integrator Strata Solar today marked a year of projects that cumulatively utilize over 50MW of solar power across several sites in North Carolina and that are powered by ReneSola's high-efficiency 300W 72-cell polycrystalline solar modules.

"2013 was a progressive, prolific year of projects between ReneSola and Strata Solar," said Kevin Chen, president of ReneSola America. "It is always a pleasure to work with Strata Solar, and we have seen this company take great strides in the past year to accelerate productivity in 2014. We anticipate a continuing advantageous relationship between ReneSola and Strata Solar through collaboration on developments to come this year."
"2013 was a very strong year for Strata Solar and for solar growth in America, and we are very proud of the projects we collaborated on with ReneSola," said Markus Wilhelm, CEO of Strata Solar. "They have proven to be a trusted and reliable supplier of high-efficiency PV modules, and we have been impressed by the company's operational efficiency and strong commitment to the utility-scale solar market. We look forward to seeing our mutually beneficial partnership with ReneSola strengthen in 2014."
About ReneSola
Founded in 2005, ReneSola (NYSE: SOL) is a leading brand and technology provider of solar PV products. Leveraging its proprietary technologies, economies of scale and technical expertise, ReneSola uses in-house virgin polysilicon and a vertically integrated business model to provide customers with high-quality, cost-competitive products. ReneSola solar modules have scored top PVUSA Test Conditions (PTC) ratings with high annual kilowatt-hour output, according to the California Energy Commission (CEC). ReneSola solar PV modules can be found in projects ranging in size from a few kilowatts to multi-megawatts in markets around the world, including the United States, Germany, Italy, Belgium, China, Greece, Spain and Australia. For more information, please visit www.renesola.com.
About Strata Solar, LLC.
Strata Solar is a national leader of utility scale solar energy systems and installations. Strata's unique, low impact, standardized approach to solar farm creation is supported through its vertical divisions which offer complete turnkey services for the design, construction and installation of utility and commercial photovoltaic systems. Strata also offers a full array of development, engineering, procurement, construction, operation and maintenance services to companies interested in clean renewable energy. Headquartered in Chapel Hill with an expansive O&M facility nearby. For more information please visit www.StrataSolar.com.
Featured Product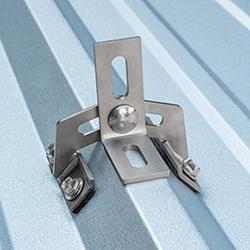 They have been changing the game for 10 years with their original Top Mount line for Asphalt Shingle roofs, and by now supplying one of the widest ranges of solar mounts in North America. From their patented products, to the custom production services they offer, QuickBOLT has been working with solar installers for nearly a decade to make solar installations easier than ever before.