More than half of companies surveyed expect more recruitment over next 12 months
A major new report has found record numbers of people are now employed in the renewable energy sector in Scotland.

Scottish Renewables commissioned independent researchers to survey more than 540 companies in what is the most comprehensive study to date. The findings suggest 11,695 people are currently in full-time employment, an increase of 5% from the previous year's study.
Joss Blamire, Senior Policy Manager for Scottish Renewables, which represents more than 330 organisations working in the industry, said: "These latest figures show the renewables industry has seen steady growth in the number of people being employed despite an uncertain year.
"The breadth of job opportunities for project managers, ecologists and engineers has led to a wide range of people seeing renewable energy as a sector where they can use their skills and training."
This represents a higher rate of growth in employment when compared to the Scottish economy as a whole.
The survey also asked where these jobs were located with Glasgow, the Lothians, Highlands & Islands and the North East topping the list of regions employing the most people, and onshore wind (39%), offshore wind (21%), marine and bioenergy (both 9%) the most notable sources of employment.
Mr Blamire said: "Renewables is proving it can be a significant contributor to many local economies throughout the country with emerging sectors such as offshore wind and marine energy already playing their part in creating much needed job opportunities."
Of those companies surveyed more than half (54%) said they would be looking to employ even more people in the next 12 months with a further 42% saying their employment would stay the same and only 1.6% expecting it to decrease.
"Not only are more people employed in renewables than ever before but there is a huge amount of positivity about the future with a majority of companies looking to expand their operations and take on more employees", commented Mr Blamire.
He warned, however, that the industry could not afford to become complacent over these new figures.
"The survey also found that market reforms in the electricity sector, planning issues and connecting projects to the grid were all cited as potential barriers that could get in the way of future growth. We cannot become complacent over these positive job numbers when such considerable threats are on the horizon.
"As the New Year gets underway the renewable energy sector in Scotland will be looking at how it can overcome these barriers to secure even more jobs and further investment as well as reduce emissions from our energy sector over the next 12 months."
Featured Product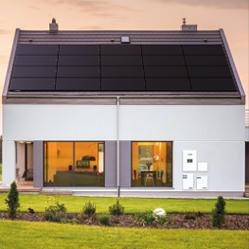 The Q.Home+ ESS HYB-G1 energy storage solution offers scalable storage capacity from 4.5 kWh up to 18.9 kWh and comes in a modular design for easy and fast installation. The system is offered in both DC-coupled and AC-coupled configurations and can connect up to 3 batteries in series using only one inverter and battery management system (BMS). The system includes an integrated backup power function for 100% of the rated inverter output to support critical loads in the event of power failure and offers remote monitoring using the QHOME+ web portal or QHOME+ ESS mobile app.