"Shout Out For Solar" Day – set for Friday, January 24
January 13, 2014

WASHINGTON, DC – Supported by both business and environmental groups, hundreds of thousands of people from across the United States and around the world are expected to take part in the Solar Energy Industry Association's (SEIA) National "Shout Out For Solar" Day – set for Friday, January 24, and taking place on Facebook, Twitter and other social media venues.
The event coincides with SEIA's 40th anniversary as a national trade association and the "voice" of solar energy in America. It will also mark the launch of a new "America Supports Solar" campaign, which will highlight solar energy's explosive growth across the United States, as well as its record-shattering year in 2013. It's estimated that the U.S. now has 13 gigawatts of installed solar capacity – enough to power more than 2 million American homes. What's more, when all of the numbers are in, solar is expected to account for more new electric capacity in the U.S. in 2013 than any other renewable energy source.
"Millions of people around the world are passionate about solar energy and the enormous opportunities it provides for the future," said Rhone Resch, SEIA president and CEO. "This event will help showcase that excitement. Our industry has created thousands of new American jobs, saved money for consumers, boosted the economy and helped reduce pollution. That's a success story worth shouting from every rooftop in America."
Today, there are nearly 120,000 Americans employed by the U.S. solar industry at more than 6,100 American companies. While 2013 was a record-breaking year, 2014 may be even better, with 30 percent growth being forecast. Part of this unprecedented growth is due to the fact that the average price of a solar system has dropped by more than 50 percent since 2010, benefitting consumers, businesses, schools and government entities.
Featured Product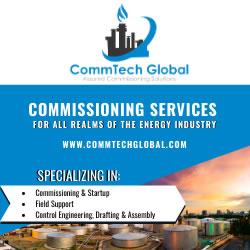 CommTech Global Solutions, LLC, provides professional and reliable commissioning services to customers in all realms of the energy industry. We blend our skills in engineering and technology with innovative business models, offering a complete range of services to assist you for a successful and in compliance operational startup. Consolidation of all our service domains gives our clients a comprehensive set of expertise and far-reaching experience on each project.