ASES' 43rd annual National Solar Conference will be held in conjunction with Intersolar North America in San Francisco July 6 - 10, 2014
SAN FRANCISCO, January 22, 2014 - The American Solar Energy Society (ASES), the nation's leading association of solar professionals and advocates focused on technological innovation, will hold their annual conference, Solar 2014, in conjunction with the seventh annual Intersolar North America in San Francisco this July.

"We are very pleased to collaborate with Intersolar," said Seth Masia, executive director of ASES. "Their long-standing alliance with the Fraunhofer Institute and with the International Solar Energy Society is a very good fit with the ASES conference mission. Beyond that, ASES has been looking for an opportunity to hold its own conference mid-summer, when faculty and grad students will find it easier to attend. Both the timing and the location suit our purposes perfectly."
ASES will organize and present Solar 2014 -- the 43rd annual event in America's longest running solar conference series -- from July 6 to 10. With six decades of history in North American renewable energy laboratories and industries, ASES and its programs will bring new and engaging content to the
Intersolar North America conference, including discussions in fields including Resource Assessment & Integration, Passive Solar Building, Transportation and Biofuels, Concentrated Solar Power, Thermal Solar Power, Distributed Wind Power, and Young & Emerging Professionals in Solar. Through this
partnership, ASES and Intersolar North America are able to reach an unprecedented range of
attendees and cover the most relevant topics in the U.S. renewable energy industries.
Download the Solar 2014 Call for Papers
Learn more about Solar 2014
Over the past two decades, ASES has held its National Solar Conferences (SOLAR) alternately at East Coast and West Coast locations. After SOLAR 2013 in Baltimore, San Francisco was selected as the most suitable location for 2014. Located in the heart of the United States' largest solar market, Intersolar North America plans to welcome approximately 600 exhibitors and 18,000 attendees to the exhibition halls at the Moscone Center.
This year's Intersolar North America conference program will focus on traditional topics including PV technologies, market trends and policies, and will expand its focus to additional sessions on energy storage, balance of system and financing. Attendees can expect a broader and more robust program with the co-location of the two conferences.
"Heading into our seventh year in San Francisco, Intersolar is proud to expand our conference offering by joining forces with valued industry partner American Solar Energy Society," commented Markus Elsaesser CEO of Solar Promotion International GmbH, organizer of Intersolar North America.
"Attendees can expect that the quality of topics discussed, including the most advanced technologies, policy developments and business strategies, will be world-class as in previous years. The diversity of
perspectives influencing the agenda will maximize insights available to attendees."
Intersolar and ASES conference attendees will have access to both programs with a single conference pass, as well as to the Intersolar North America exhibition next door. The Intersolar conference will take place on the third and fourth floor, while the ASES conference will be located on the fifth floor of the InterContinental Hotel. Both conferences will feature in-depth discussions with a strong line up of solar executives, policymakers and industry leaders, and will offer conference attendees a broader array of topics related to the solar market.
The call for speakers for Intersolar North America is now open. Interested industry representatives can access the topics and submit a speaking abstract on the Intersolar website here or on the Solar 2014
website here. Registration will start on March 18.
About Intersolar North America
With events spanning four continents, Intersolar is the world's leading exhibition series for the solar industry and its partners. It unites people and companies from around the world with the aim of
increasing the share of solar power in our energy supply.
Since its establishment in 2008, Intersolar North America has become the most attended solar event and the premier networking platform for the North American solar industry. Co-located with SEMICON West, it takes place annually at the Moscone Center in San Francisco, California, the United States' pioneering solar market.
The event's exhibition and conference both focus on the areas of photovoltaics, PV production
technologies, energy storage and solar thermal technologies. Since being founded, Intersolar has
become the most important industry platform for manufacturers, suppliers, distributors, service
providers and partners of the solar industry.
A total of 576 exhibitors and 17,881 trade visitors participated in Intersolar North America in 2013. The conference featured more than 50 sessions with more than 200 speakers and approximately 1,600
attendees.
With more than 20 years of experience, Intersolar has the unique ability to bring together members of the solar industry from across the world's most influential markets. Intersolar exhibitions and
conferences are held in Munich, San Francisco, Mumbai, Beijing and Săo Paulo. Starting in 2014, these global events will be complemented by the Intersolar Summits, which will take place in emerging and growing markets worldwide.
For more information on Intersolar North America, please visit www.intersolar.us
Organizers: Intersolar North America is organized by Solar Promotion International GmbH, Pforzheim and Freiburg Management and Marketing International GmbH (FMMI).
About ASES
Established in 1954, the nonprofit American Solar Energy Society is the nation's leading association of solar professionals & advocates. ASES' mission is to inspire an era of energy innovation and speed the transition to a sustainable energy economy and to advance education, research and policy. Along with ISES, ASES celebrates its 60th anniversary in 2014.
For more information on ASES, please visit ases.org
Featured Product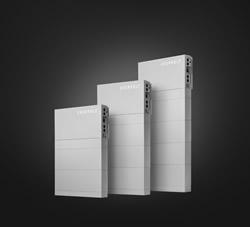 Panasonic's Total Home Energy System is built to deliver. The same battery technology we use to power the world's most advanced electric cars is now available to power your home. But it doesn't stop there. The all-in-one renewable energy system pairs Panasonic solar panels with Evervolt™ batteries to offer your customers a complete solar + storage solution, manufactured and warrantied by a company you know you can trust. In stock now.