The event coincides with SEIA's 40th anniversary as a national trade association and the "voice" of solar energy in America.
WASHINGTON, DC – Saying "solar makes sense," leading businesses and environmental groups will join hundreds of thousands of people across the United States and around the world in support of the Solar Energy Industries Association's (SEIA) National "Shout Out For Solar" Day – set for Friday and taking place on Facebook, Twitter and other social media platforms.

The event coincides with SEIA's 40th anniversary as a national trade association and the "voice" of solar energy in America. It will also mark the launch of a new "America Supports Solar" campaign, which will highlight solar energy's explosive growth across the United, as well as its record-shattering year in 2013. It's estimated the U.S. now has 13 gigawatts of installed solar capacity – enough to power more than 2 million American homes. What's more, when all of the numbers are in, solar is expected to account for more electric capacity in the U.S. in 2013 than any other renewable energy source.
Jim Walker, International Programmes and Strategy Director, The Climate Group, said, "Shout Out for Solar Day has come at a critical moment for the United States. Solar energy is one of the fastest growing industries in America, where the share of global solar installations hit 13 percent in 2013, a 30-year high that will continue to boost the U.S. economy and create jobs. Solar makes sense. The technology is ready, the market is ready, now we just need to spread #GoSolar with a mass audience to accelerate adoption of this low carbon energy and help secure a cleaner, better, more prosperous future for America."
That sentiment is being echoed nationwide. Today, there are nearly 120,000 Americans employed by the U.S. solar industry at more than 6,100 American companies. While 2013 was a record-breaking year, 2014 may be even better with 30 percent growth being forecast. Part of this unprecedented growth is due to the fact that the average price of a solar system has dropped by more than 50 percent since 2010, benefitting consumers, businesses, schools and government entities.
"As more and more Americans embrace solar power, our nation's renewable energy future looks brighter and brighter," said Keya Chatterjee, director of renewable energy outreach for World Wildlife Fund (WWF). "Homeowners from coast to coast are tackling climate change and saving money at the same time. What's not to love about solar energy?"
"Climate change threatens the future of birds and other wildlife and we all must embrace clean energy like solar as part of the solution. Rooftop solar is an option whose time has come. It belongs in every community, on our malls, offices, schools and homes," said Mike Daulton, Vice President of Government Relations, National Audubon Society.
Greenpeace Climate and Energy Campaign Director Gabe Wisniewski said, ""The skyrocketing solar energy growth happening in the US right now offers one of the best hopes we have against runaway global warming. Dinosaur polluting industries are trying to cast clouds over the solar revolution, making it more important than ever that people 'shout out for solar' and tell their politicians, businesses and neighbors why solar is the smart choice for our pocketbooks and the planet."
"The solar boom in the U.S. is creating jobs, cutting toxic climate pollution, and serving as part of the backbone of the clean energy economy. Now, with more and more Americans choosing affordable solar technology to power their homes and businesses, the best is yet to come for our economy, our families, and our future," said Michael Brune, Executive Director of the Sierra Club.
"Solar's success is a boon for our economy, health and environment. Environmental Defense Fund fully supports SEIA's 'Shout Out for Solar' Day and stands by the millions across America who are turning to solar power to spur economic growth, cleaner air and a safer climate," said Jim Marston, Vice President of Environmental Defense Fund's US Climate and Energy Program.
"When General Motors looks for ways to power our facilities, we often look to the sun," said Rob Threlkeld, General Motors global manager of renewable energy. "Solar power is a major component of our renewable energy portfolio, so we are happy to join with SEIA in giving solar a 'shout out' as they celebrate their 40th anniversary of promoting the use of solar across the country."
"Solar not only provides clean, reliable and affordable energy right now, it also provides our best hope for the future," said Rhone Resch, SEIA president and CEO. "According to recent projections by the United Nations, 9.6 billion people will inhabit the earth by 2050. As the world's most abundant source of energy, it's critically important to continue developing new solar capacity. In recent years, the U.S. solar energy industry has helped to create tens of thousands of American jobs, pump billions of dollars into our economy and significantly reduce pollution. That's a success story worthy of shouting from every rooftop in America. On Friday, we encourage everyone to #GoSolar."
Featured Product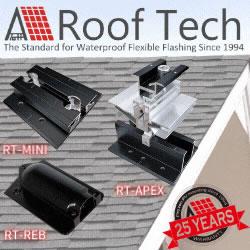 Now Roof Tech brings you the most innovative, watertight mounting systems ever developed for solar photovoltaic systems. Designed and manufactured exclusively for us by Japan's longtime leader in roofing technologies, Roof Tech products are 100% code-compliant and offer fast, simple installation and huge savings on shipping costs due to their compact, rail-less design. Learn more about our full line of versatile PV mounting solutions now available for residential installations. The next generation in rooftop solar mounting solutions."