The summit will provide an in - depth overview on gas flaring concept through interactive panel discussions, and successful case studies.
Gas Flaring is a common practice followed by oil & gas wells around the world. With 94% of UAE's oil & gas reserves located in Abu Dhabi, and the rising concern to achieve sustainability and energy efficiency in the oil & gas production and exploration, Fleming Gulf is launching Gas Flaring Management Summit on 20-21 May in Abu Dhabi, UAE. One of the key topics at the summit will look into options benefitting the local communities situated close to the flaring sites.

CNG Development Manager, Fazal Ali Khan from EMGAS will analyze the cost effectiveness and explore alternative usage options and find value for the flared gas. The major reason why producer's prefer to flare natural gas is because it requires costly investment and better integration of infrastructure. Analyzing the current infrastructures in oil & gas processing units will be addressed by Mohammed Daoud, Manager – Engineering and Projects from ADCO.
Gas Flaring Management Summit will witness Mahboob Mia, Environment Services Section Leader from ADMA-OPCO giving an overview on the "Multi Million Dollar Gas Processing Facility (GPF) Project in Zakum Fields" and how it became the first project within the group to achieve "Zero Flaring". It will also educate the attendees on the regulatory restrictions and tax incentivisation programs introduced to achieve zero gas flaring reduction targets.
About Fleming Gulf:
Fleming Gulf is a leading provider of business intelligence through industry specific conferences, webinars and skills enhancement training courses by leveraging our network of industry influencer's with specialist knowledge to provide organisations the winning edge that makes a difference in their decision making in today's competitive business landscape.
Contact:
Alphy Nangani
alphy.nangani@fleminggulf.com | T: 971 4609 1570
Featured Product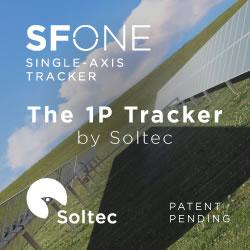 Soltec manufactures and supplies solar trackers designed and proven for extreme climate conditions, which is an ideal solution for any region's environment. Soltec's trackers are self-powered, requiring no additional PV module or grid-powered connection. Bifacial modules collect energy on both the front and rear sides, capturing reflected irradiance from the ground surface under and around the tracker and from other modules. Depending on site conditions, bifacial yield-gain can reach +30 percent.