DuraTrack™ HZ & DuraRack™ expand their East Coast presence
Deadlines are always tight, but what if your target was to install more than 56 MWdc of solar technology in just 60 days? Array Technologies, Inc. (ATI) and SunEnergy1 recently faced this reality together and came through stronger than ever.

In the final months of 2013, five solar sites in North Carolina received ground mount solutions from ATI and were constructed by SunEnergy1, a leading solar design, engineering and construction company based in North Carolina. ATI and SunEnergy1 signed the Supply Agreements a mere three months before the December 31st tax credit deadline. ATI was selected as the ground mount solutions provider for these projects due to a stellar track record of on-time deliveries. The DuraTrack™ HZ and DuraRack™ fixed-tilt also boast the fastest on-site install rates in the industry. In order to facilitate installation of 56 MW at five sites in less than two months, ATI went above and beyond to provide engineering services, factory kitted assemblies, on-site project management support and accelerated shipments to help SunEnergy1 meet the imposing deadline.
"I'm really impressed with the way ATI and SunEnergy1 were able to come together, work side-by-side, and respond quickly to make sure the projects met tight deadlines which were critical to investors," says ATI Founder and CEO, Ron Corio. "The team effort in this case was truly exceptional."
"We at SunEnergy1 are truly thrilled to now be converted to ATI racking. Truly head and shoulders above the competition, both in tracking and fixed tilt solutions," explains Kenny Habul, CEO of SunEnergy1. "Through design excellence, clever packaging and pre-assembly, ATI's product is one of the reasons we could install 200,000 panels in less than 60 days."
Dogwood Solar Power, Windsor Cooper Hill Solar, Bethel Price Solar, Washington Airport Solar and Highway 92 Solar, all located in eastern North Carolina, were the first to receive new DuraTrack HZ and DuraRack product enhancements, such as integrated grounding module mounting clamps which optimize materials and install time. Utilizing ATI's site-specific customization options, all three DuraTrack HZ projects and both DuraRack projects were designed to withstand more than 100 MPH winds in North Carolina's hurricane prone environment.
All five projects were interconnected and commissioned on-time before the 31st of December 2013.
About Array Technologies:
Array Technologies is the worldwide market leader in tracking solutions for utility, commercial and residential solar electric systems, with nearly 2 gigawatts shipped and installed across the globe. Array's innovation and leadership in ground mount fixed-rack and solar tracker design has established the industry standard for cost-effective, robust, reliable and easy to install PV solutions with over two decades of field experience. Headquartered in Albuquerque, NM, Array Technologies' ground mount solutions are engineered and manufactured in the USA. For more information about Array Technologies, Inc., please visit arraytechinc.com.
About SunEnergy1:
SunEnergy1 are true leaders in Utility scale ground mount solar. With well over 100MW installed our experienced team, paired with established relationships with reputable resources, provides clients with fully integrated system processes from project conception and design, to post-construction testing, commissioning and maintenance.
SunEnergy1 is based in Mooresville, N.C. and is the preferred EPC to Duke Energy Renewables. www.sunenergy1.com.
Featured Product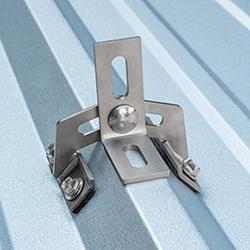 They have been changing the game for 10 years with their original Top Mount line for Asphalt Shingle roofs, and by now supplying one of the widest ranges of solar mounts in North America. From their patented products, to the custom production services they offer, QuickBOLT has been working with solar installers for nearly a decade to make solar installations easier than ever before.