IXYS has integrated a complete AC controller of 110A / 1200V - the CLA110MB1200NA, providing a one phase solution for an AC soft start or power control unit.
LEIDEN, Netherlands---IXYS Corporation (NASDAQ: IXYS), a leader in power semiconductors and integrated circuit technologies for energy efficient products used in power conversion and motor control applications, today announced the integration of more power into the popular SOT-227B/Minibloc package family. With the low profile configuration and robust terminals for higher current conduction, these products are suitable for higher power applications that exceed the capabilities of through the hole "TO" type discrete packages, like the TO-247 and TO-264.

IXYS has integrated a complete AC controller of 110A / 1200V - the CLA110MB1200NA, providing a one phase solution for an AC soft start or power control unit. In addition, a phase leg with a thyristor and diode providing an active rectifier solution, to control in-rush currents, is introduced with ratings of 100A /1200V – the CLA100PD1200NA.
Other new products are the DNA90YA2200NA and the DNA90YC2200NA which when used together, create a compact three phase rectifier bridge of 90 Amps and 2200 Volt. The products are divided into the low-side – DNA90YA2200NA - and the high-side – DNA90YC2200NA – configuration.
The robustness of this IXYS Minibloc package with its screw terminals supports the new compact designs for high current rectification. The low height of 12 mm enables the designers to create low profile products with good thermal performance and high electrical voltage isolation.
A few examples of the latest configurations integrated in the Minibloc package are listed below.
CLA100PD1200NA 100A/1200V
thyristor, diode phase leg
CLA110MB1200NA 110A/1200V
AC Controller
DPF240X200NA 240A/200V
fast dual diode with high current density
DNA90YA2200NA 90A/2200V
three low side diodes for three phase rectifier
DNA90YC2200NA 90A/2200V
three high side diodes for three phase rectifier
DSA300I200NA 300A/200V
single Schottky diode
These Minibloc products are suitable for many power products such as UPS's, power supplies, inverters, solar inverters, welding equipment, battery chargers and motor drives.
For more detailed information, data sheets etc. visit our website under www.ixys.com or contact your local sales representative.
About IXYS Corporation
Since its founding, IXYS Corporation has been developing power semiconductors and mixed signal ICs to improve power conversion efficiency, generate solar and wind power and provide efficient motor control for industrial applications. IXYS and its subsidiary companies offer a diversified product base that addresses worldwide needs for power control in the growing cleantech industries, renewable energy markets, telecommunications, medical devices, transportation applications, flexible displays and RF power.
Featured Product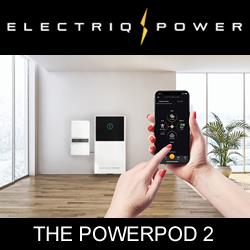 The Electriq PowerPod 2 is a fully-integrated home energy storage, management, and monitoring system powered by LFP batteries. The high-performance, cobalt-free product includes a hybrid solar/battery inverter controlled by intelligent software. The PowerPod 2 provides backup power and can self-consume or export excess power back to the grid.