Four Districts to Receive $85,000 in Project Lead The Way Funding
SAN JOSE, Calif., Feb. 18, 2014 -- Today, SunPower awarded schools in four California school districts a total of $85,000 in grants to support the implementation of science, technology, engineering and mathematics (STEM) curricula for students. The grants were facilitated in partnership with Project Lead The Way (PLTW), the nation's leading provider of K-12 STEM programs.

After successful completion of a competitive application process, school districts receiving the awards include Antioch, Compton, Tustin and West Contra Costa Unified. Schools in each district will offer PLTW programs in which students engage in open-ended problem solving, learn and apply the engineering design process, and develop vital skills such as teamwork, communication and critical thinking.
"SunPower is very proud to support California's schools and help prepare our young people to meet the challenges of the 21st century," said SunPower Managing Director Bill Kelly. "In addition to funding these grants, which complement the state department of education's Linked Learning initiatives, SunPower works with Project Lead The Way to incorporate solar energy curricula into the program, bringing technology into classrooms and introducing students to engineering concepts that better prepare them for the future. We congratulate the districts receiving these awards today."
"Antioch Unified is very excited about receiving this grant, which will help provide STEM education to over 600 students at Orchard Park School in Oakley," said Michael Green of Antioch Unified School District. "We thank SunPower and Project Lead The Way for helping us create a great opportunity to deliver a project-based, world-class K-12 curriculum that will help our students develop the skills needed to succeed in college and beyond."
"Project Lead The Way is committed to providing the highest quality STEM education to prepare today's students for the global economy," said PLTW President and CEO Vince Bertram. "We look forward to partnering with these four districts to prepare our nation's next generation of innovators, and we are very grateful to SunPower for their generous support and commitment to making these grants possible."
In addition to working with Project Lead The Way to provide school-year grants, SunPower also offers the SunPower Solar Academy, an intensive summer program, to school districts across the state. In 2013, approximately 250 students from ten school districts participated in the week-long program, which immerses participants in a solar-focused STEM curriculum.
SunPower is a leader in delivering energy solutions to California's academic institutions. The company is providing, or has provided, a total of 36.1 megawatts of on-site solar power systems at 92 California K-12 public schools.
About Project Lead The Way
Project Lead The Way (PLTW) is the nation's leading provider of STEM programs. PLTW's world-class, activity-, project-, and problem-based curriculum and high-quality teacher professional development model, combined with an engaged network of educators and corporate partners, help students develop the skills needed to succeed in our global economy. More than 5,000 elementary, middle, and high schools in all 50 states and the District of Columbia are currently offering PLTW courses to their students. For more information, visit www.pltw.org.
About SunPower
SunPower Corp. (NASDAQ: SPWR) designs, manufactures and delivers the highest efficiency, highest reliability solar panels and systems available today. Residential, business, government and utility customers rely on the company's quarter century of experience and guaranteed performance to provide maximum return on investment throughout the life of the solar system. Headquartered in San Jose, Calif., SunPower has offices in North America, Europe, Australia, Africa and Asia. For more information, visit www.sunpower.com.
Featured Product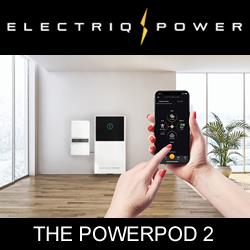 The Electriq PowerPod 2 is a fully-integrated home energy storage, management, and monitoring system powered by LFP batteries. The high-performance, cobalt-free product includes a hybrid solar/battery inverter controlled by intelligent software. The PowerPod 2 provides backup power and can self-consume or export excess power back to the grid.