U.S. Companies Showcase Products at Fuel Cell Expo in Japan
U.S. companies representing the entire fuel cell and hydrogen industry supply chain will be on display in the U.S.A Pavilion (W22-48) at the upcoming 10th International Hydrogen and Fuel Cell Expo, (www.fcexpo.jp/en) which will be held February 26-28, in Tokyo, Japan.

"It is very exciting to have a strong showing again for the U.S. fuel cell industry in Tokyo this year. The companies exhibiting showcase the range of end user markets from fuel cell vehicles such as buses and forklifts to backup power," says Jennifer Gangi, program director, Fuel Cells 2000, a non-profit education and outreach program that helped organize the Pavilion. "We have fuel cell manufacturers, material suppliers, hydrogen fueling and compression companies from all around the country as well as industry associations focused on creating policies and markets to help fuel cell commercialization and deployments in the U.S. and around the world."
Based on previous years' successes at this show, one of the biggest in the industry, several companies have expanded their presence in the Pavilion with much larger space. The companies exhibiting include:
• Oorja Protonics – direct methanol fuel cell manufacturer, Fremont, California – www.oorjafuelcells.com/
• US Hybrid Corporation – electric and hybrid traction drive systems for medium and heavy duty commercial trucks, municipality vehicles, and fuel cell transit buses, Torrance, California – www.ushybrid.com
• Pdc Machines – high pressure hydrogen compressors for fueling stations, Warminster, Pennsylvania – www.pdcmachines.com
• Parajito Powder – manufacturer of drop-in replacement non-platinum fuel cell catalysts, Albuquerque, New Mexico – www.parajitopowder.com
• Sulfa Trap, Inc. – sorbent materials for removal of sulfur from various fuel streams, Arvada, Colorado – www.sulfatrap.com/
• Fuel Cell and Hydrogen Energy Association – trade association for the fuel cell and hydrogen energy industry. Washington, DC – www.fchea.org
• Breakthrough Technologies Institute/Fuel Cells 2000 – non-profit organization that promotes fuel cells and clean energy technologies via analysis, market research and reporting, Washington, DC – www.fuelcells.org, www.btionline.org
• U.S. Foreign Commercial Service – focused on helping U.S. companies get started in exporting or increasing sales to new global markets. www.export.gov/japan
Ohio component company NexTech Materials will be at the Expo as well, exhibiting with its Japanese partner, TOYO Corporation in booth W22-73.
Attendees and exhibitors can stop by the U.S.A. Pavilion located at W22-48 to meet with company representatives, see new and available products and learn more about the U.S. fuel cell industry and emerging markets. Fuel Cells 2000 will be posting coverage of the U.S. Pavilion and the Fuel Cell Expo at twitter.com/fuelcellinsider and www.fuelcellinsider.org.
Featured Product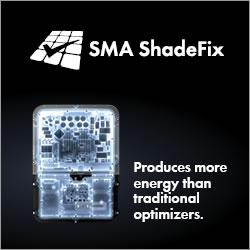 A recent university study showed SMA ShadeFix optimization produces more energy than traditional optimizers. It also utilizes far fewer components, reducing the need for costly service visits. Systems with ShadeFix optimization and SunSpec certified shutdown devices are the ideal solution for residential and commercial PV systems. Visit SMA's website to learn more and download the whitepaper.