3TIER's global wind and solar datasets now freely available through Google's popular platform
SEATTLE (February 28, 2014) – Today 3TIER®, a Vaisala company and global leader in renewable energy assessment and forecasting, announced the public release of wind and solar annual averages from its global datasets as part of Google's Map Gallery launch. Through its collaboration with Google, 3TIER is excited to make this contribution to the global community and vastly improve access to wind and solar resource information by making it freely available to both researchers and the general public in Google's popular and widely used platform.

Until today, gaining access to high quality global wind and solar resource information from a reliable, consistent source was not an option for most people. This information is vital to a wide variety of fields, from energy development, infrastructure, efficiency, and policy planning to agriculture and conservation. However, it is often beyond the budgets of the non-profits, NGO's, and public agencies conducting this important research. For example, it will support individuals like energy consultant, Allison Archambault, and conservation geographer, James Oakleaf.
Allison Archambault provides strategic guidance, such as market research, policy analysis, and business development, to promote the adoption of sustainable, scalable renewable energy projects, particularly in rural and developing areas. "My clients have found 3TIER's data highly helpful in painting a picture of renewable energy potential," said Allison Archambault, founder and principal, Fresh Generation, LLC. "With better visibility into renewable resources, policy makers, companies, and consumers can make better decisions about how to unlock the value of a clean economy. There is an ah-ha moment when people see the resource mix for their place on Earth, so this democratization of data is an important contribution to the public domain."
James Oakleaf and his colleagues at The Nature Conservancy evaluate areas at risk for major development, including renewable energy, with the goal to help mitigate the impacts of new energy projects on wildlife and biodiversity. They will be using 3TIER's data to support research estimating potential renewable generation capacity in lands of low value for biodiversity conservation, highlighting places were renewable energy development should be prioritized. "In our research, we hope to show that renewable energy and the environment do not need to be in direct conflict. Through education, planning, and smart infrastructure growth, there are ways both can exist harmoniously," said James Oakleaf. "Global analysis like this requires a variety of data, and many times these are difficult to obtain, restricted in their use, or quite costly. Making high quality, accurate global data like 3TIER's publicly available is a tremendous resource for those in the conservation community."
"At 3TIER, our belief is that better information empowers smarter decision-making," said Dr. Pascal Storck, 3TIER global director. "Google's mission to organize the world's information and make it universally accessible and useful is well aligned with our goal and we are thrilled to be a part of this launch. Together we are truly making a difference for people like James and Allison."
3TIER's wind and solar datasets are the most advanced global datasets ever created and provide a sophisticated alternative to publicly available sources. Each dataset offers annual average values created using proven, widely-accepted scientific techniques and derived from long-term historical weather models of 10 or more years at high spatial and temporal resolutions. The solar dataset, for example, has a resolution 3 to 30 times higher than any other publicly available data source and offers hour-by-hour information anywhere in the world.
For strategic planning at the project level, 3TIER delivers comprehensive wind and solar energy assessment and forecasting services and has years of experience working with the largest utility-scale developers, operators, and financing partners around the world.
Access to 3TIER's datasets within Google's Map Gallery is available here: LINK!!!
For more information about 3TIER, please visit www.3tier.com.
About 3TIER, a Vaisala Company
Together with Vaisala, leader in environmental and industrial measurement, 3TIER delivers an integrated suite of renewable energy assessment, forecasting, and asset optimization services to customers around the globe. For over a decade, 3TIER's expertise in weather, climate, and wind and solar risk has helped the world's largest utilities, energy traders, financiers, and project developers make profitable energy decisions. Our expert staff, industry experience, and customer-focus have given us an unmatched track record within the renewable energy sector. 3TIER has global reach with offices serving North America, Europe, the Middle East, Africa, India, Latin America, and the Asia Pacific region. For more information, visit www.3tier.com.
Featured Product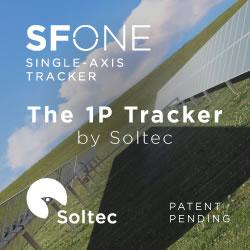 Under the slogan "engineered for greatness", the SF8 tracker aims to revolutionize the photovoltaic market with its new minimum 2x60 configuration and 4 to 6-strings. This tracker is elegantly designed while it reinforces its structure to perform in any terrain. In addition, the SF8 tracker increases the rigidity of its structure by 22% more than the previous generation of Soltec trackers, the SF7. The SF8 is specially designed for larger 72 and 78 cell modules, an increasing market trend.