IREC has identified a need to differentiate between certification and certificate programs
In its role as an American National Standards Institute (ANSI) accredited standards developer and national leader in training credentials, the Interstate Renewable Energy Council (IREC) has undertaken standards activities to develop IREC Standard 14732:201X General Requirements for the Accreditation of Clean Energy Certificate Programs.

The proliferation of workforce-related training and credentialing programs in the clean energy sector has led to confusion in the marketplace and inconsistency in workforce skills. IREC has identified a need to differentiate between certification and certificate programs, and to describe best practices and requirements that form the foundation for accrediting clean energy certificate programs.
The scope of the draft standard is as follows:
This standard forms the foundation for the accreditation of certificate-awarding entities that develop and administer credit or non-credit clean energy related programs offered in formal educational institutions and other legal entities. For the purposes of this standard, clean energy technologies and practices include renewable energy, energy efficiency, distributed renewable energy generation, and other sustainability practices.
Impacted or interested parties are encouraged to provide comments on the content of the standard. Comments should be specific to requirement(s) of the standard and include sufficient detail so as to enable the reader to understand the commenter's position, concerns and suggested alternative language, if appropriate.
Comments will be accepted until April 14, 2014.
Review the content of IREC Standard 14732:201X
Use our survey tool to submit your comments.
About IREC
The Interstate Renewable Energy Council (IREC) believes clean energy is critical to achieving a sustainable and economically strong future. To pave this clean energy path, IREC works to expand consumer access to clean energy; generates information and objective analysis grounded in best practices and standards; and leads programs to build a quality clean energy workforce, including a unique credentialing program for renewable energy and energy efficiency training providers and instructors. A not-for-profit organization since 1982, IREC's programs and policies have benefitted energy consumers, policymakers, utilities and the clean energy industry. As of July 2013, IREC is an accredited American National Standards Developer. Visit www.irecusa.org.
Featured Product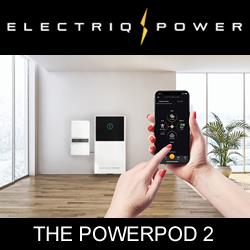 The Electriq PowerPod 2 is a fully-integrated home energy storage, management, and monitoring system powered by LFP batteries. The high-performance, cobalt-free product includes a hybrid solar/battery inverter controlled by intelligent software. The PowerPod 2 provides backup power and can self-consume or export excess power back to the grid.