Ministers urged to back "renewables first" approach to ensure best deal for UK economy
REA Chief Executive Dr Nina Skorupska has written to UK Ministers discussing the EU 2030 climate and energy framework in Brussels this month, stating the economic case for binding 2030 renewables targets for individual EU Member States [1]. The first discussions on the framework will take place at today's Environment Council meeting, attended by both Energy Secretary Ed Davey and Environment Secretary Owen Paterson [2].

The UK Government's position to date has been opposed to binding 2030 renewables targets. The European Commission's proposals, published in January [3], recommended binding 40% greenhouse gas targets and an EU-wide binding renewables target of "at least 27%", but with no specific targets for individual Member States (and hence no clear indication of how the target would be enforced). The proposals also contained no direct measures for the transport sector.
Nina Skorupska's letter states:
"Greenhouse gas targets alone will not be sufficient to deliver the investment we need in green energy technologies. Moreover, nuclear and CCS have an inherent advantage, as these projects are developed by the established energy giants, while most renewable energy companies are independent SMEs. This makes it harder for renewables to compete for investment, but it also means that renewables, led by visionary entrepreneurs driving innovation in British technology, have unique potential for cost reductions. If current learning rates can be maintained, onshore wind and solar power will need lower strike prices than nuclear by the early 2020s, before any new nuclear power has actually been generated."
Although the UK and the European Commission have to date opposed binding renewables targets for individual Member States, the European Parliament last month voted in favour of them [4]. Several groups of businesses, investors and NGOs across Europe have also made strong representations for binding renewables targets [5]. Nina Skorupska's letter concludes:
"Technology-neutral policy won't deliver technology-neutral results when the dice are already loaded. For affordable green energy in the 2020s and beyond, we need a renewables-first approach to 2030, with CCS and nuclear filling in the gaps renewables can't fill yet. I urge you both to back binding 2030 renewable energy targets for individual Member States at the EU Council meetings next month. Let's set a positive 2030 vision for renewables."
Featured Product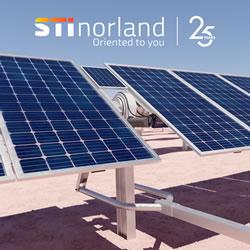 Developed in 2017, the STI-H250™ is consists of two linked torsion beams that rotate simultaneously following the sun's path. They are moved by just one motor, cutting supply and maintenance costs. STI-H250™ dual-row tracker includes backtracking mode to avoid shadowing between adjacent rows and stow function to protect the tracker in extreme wind conditions. For cleaning, vehicles can pass between trackers and each row can be placed in a different position.