Alternate Energy Technologies (AET), a solar thermal industry leader since 1975, announces its new partner collaboration with Energy Conservation Solutions (ECS) to maximize solar thermal adoption. AET will continue its work with its current North Carolina distributor Greensboro Plumbing Supply (GPS), who will educate their current and prospective customer base about the benefits of installing and financing AET solar systems through ECS.
Green Cove Springs, FL March 05, 2014

Alternate Energy Technologies (AET), a solar hot water thermal industry leader since 1975, announces its new channel partner collaboration with Energy Conservation Solutions (ECS) to maximize the adoption of solar thermal systems among residential and commercial users. By working with ECS, industry leader AET can help bridge the gap between itself and its plumbing distributors to educate consumers about various energy efficient options and packages, as well as financing plans that include federal and state tax credits and other local or utility incentives.
In the past, AET worked directly with its main plumbing distributors, such as Greensboro Plumbing Supply (GPS) and their integrators such as Pendergrass & Holder Plumbing. Over time, AET recognized that its distributors service plumbing-related needs other than those solely pertaining to solar thermal, and identified an additional customer base that could be capitalized upon.
Now, as part of a revised work process drafted by AET, once a technician completes work at a residence – solar thermal related or not, s/he will then inform the respective homeowner that they qualify for solar thermal heating and additional energy conservation measures, and will pass on a one-page marketing slick to further educate and engage a prospective lead.
Dan Brooks, Director of Business Development of Pendergrass, said, "The partnership between AET, Greensboro Plumbing Supply, Pendergrass Plumbing, and Energy Conservation Solutions is truly an exciting one, because we are providing big savings to our customers and helping families take control over their energy bills."
AET will continue to work with GPS and Pendergrass to assist in the installation and servicing of its systems, but will rely on ECS (http://www.energyconservationnc.com) to reach out to interested customers to close a sale for the installation of thermal systems and other conservation measures through financing options that pay for the upgrades through the savings generated. ECS will follow up on leads by conducting an energy evaluation, ultimately recommending the most effective, economical solutions, to producing and conserve energy. ECS also provides customers with the required permitting and pre-engineered systems that exceed all State and Federal government requirements.
David Sawchak, General Manager of ECS, said, "Our approach to energy conservation is unique, because we take time to really help folks understand where their home is losing efficiency – and, we only make suggestions that are cost effective and deliver long term, visible savings to homeowners."
AET is the only 100% American-made, solar thermal system manufacturer that is approved by the US government. The solar thermal industry leader features energy efficient appliances that boast the Thermafin welding process, a specialized procedure that combines the tube with the fin for a joint that results in a streamlined, uninterrupted heat path for high thermal conductivity. The end result? A naturally sourced method of energy that's an environmentally responsible method for conserving energy and reducing carbon footprints, ensuring a better planet for future generations.
"State and federal governments provide generous incentives for homeowners to make investments in solar. Right now, these programs can save you up to 65% off of a solar installation," said Brooks. "Our customers have been thrilled at the prospect of investing in their home, while at the same time lowering their tax bill."
For more information about Alternate Energy Technologies (AET), please visit http://www.aetsolar.com/.
Featured Product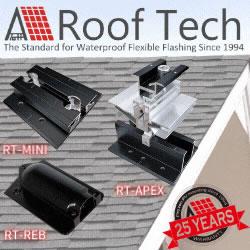 Now Roof Tech brings you the most innovative, watertight mounting systems ever developed for solar photovoltaic systems. Designed and manufactured exclusively for us by Japan's longtime leader in roofing technologies, Roof Tech products are 100% code-compliant and offer fast, simple installation and huge savings on shipping costs due to their compact, rail-less design. Learn more about our full line of versatile PV mounting solutions now available for residential installations. The next generation in rooftop solar mounting solutions."