WASHINGTON, DC – Calling it "a huge step backward," Rhone Resch, president and CEO of the Solar Energy Industries Association (SEIA), said President Obama's 2015 fiscal year budget, which was unveiled today, would severely damage the U.S. solar industry by eliminating the Investment Tax Credit (ITC) and replacing it with a refundable Production Tax Credit (PTC) at the end of 2016. After reviewing the Administration's plan, Resch released the following statement:

"The ITC has helped to make solar energy a true American success story. Replacing it with the PTC is the wrong move at the wrong time. Since the solar ITC became law in 2006, installed solar capacity nationwide has grown from 680 megawatts (MW) to nearly 13,000 megawatts. That's enough clean, reliable and affordable electricity to power more than 2.2 million homes. Smart, forward-looking public policies like the solar ITC have helped to create 143,000 good-paying American jobs and pump tens of billions of dollars into the U.S. economy, while helping to protect our environment and fight climate change. The PTC simply can't address the upfront costs of fuel-free solar projects, and we believe the Administration's sudden, 180-degree shift in tax policy could have devastating consequences on the future development of solar energy in America. While we appreciate the White House's strong support of solar in the past, the ITC should be preserved as catalyst for future economic growth."
Featured Product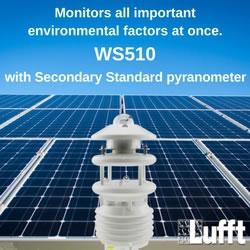 First and only Smart Weather Sensor with integrated Kipp & Zonen CMP10 Pyranometer (secondary standard). From the WS product family of professional intelligent measurement transducers with digital interface for environmental applications. Integrated design with ventilated radiation protection for measuring: Air temperature, relative humidity, air pressure, wind direction, wind speed and radiation. One external temperature or rain sensor is connectable.