The new pilot CDP Training, delivered by ISOS Group, will launch across the US following CDP's 8th Annual Spring Workshop on March 17th and will be held in San Diego, San Francisco, Seattle and NYC. The goal of the training is to direct corporations towards achieving higher in annual CDP responses
FOR IMMEDIATE RELEASE

March 7, 2014
San Diego, CA- March 7, 2014: In building upon its success as a GRI Certified Training Partner, ISOS Group, LLC intends to launch CDP training sessions across the United States following CDP's 8th Annual Spring Workshop slated for March 17th. As the world's largest voluntary greenhouse gas emissions reporting organization, CDP works on behalf of 767 institutional investors representing US$92 trillion in assets to assess risk across a broad spectrum of sustainability considerations, including climate change risk in their investment portfolios. CDP provides a transformative global system for thousands of companies and cities to measure, disclose, manage and share environmental information. As an official Silver Consultancy Education & Training Partner, ISOS is set to deliver full day (8 hour) in-person sessions aimed at facilitating improvements in climate change disclosure. "The international organization has created a lot of traction and the time is ripe for taking disclosure to the next level. Education is key to better understanding the guidance documents, scoring criteria and best-practices," says ISOS Co-Founder, Alexandru Georgescu.
Since 2008, ISOS has trained nearly 2,000 in GRI-based Sustainability Reporting- ranging from corporate representatives, non-profits, government agencies, academics and consultants. Nancy Mancilla, ISOS Co-Founder and lead educator adds, "We are excited about being able to help satisfy the growing appetite for practical knowledge in this space and look forward to serving CDP – just as we have done for GRI over the years."
"ISOS Group's excellent track record in providing guidance and instruction to a wide variety of stakeholders on sustainability reporting make them an ideal partner to provide these new CDP education & training sessions, which are designed to help companies improve the quality of their CDP climate change disclosure." says Stephen Donofrio, Vice President, Partnerships & Innovation at CDP.
CDP has opened this pilot initiative up to only a handful of entities. Committed to building a more sustainable economy, ISOS feels honored to play a role in expanding CDP's mission. In addition to ISOS' ongoing team of trainers, GHG inventory experts Coto-Consulting and climate risk consultancy Four Twenty Seven LLC will contribute to course content and delivery on greenhouse gas accounting, verification and risk mitigation.
April 18 San Diego, CA @ CoMerge
April 21 San Francisco, CA @ Baker & McKenzie
April 25 NYC, NY @ L'Oreal- USA
May 7 Seattle, WA @ Alaska Air
To reserve your seat, sign up at: http://isosgroup.com/carbon-disclosure-project/cdp/
CDP is an independent not-for-profit organization providing a global system for companies and cities to measure, disclose, manage and share climate change and water information. Over 4,000 organizations across the world's largest economies disclose their greenhouse gas emissions and assessment of climate change and water risk and opportunity through CDP, so that they can set reduction targets and make performance improvements. CDP's mission is to transform the global economic system to prevent dangerous climate change and value our natural resources by putting relevant information at the heart of business, investment and policy decisions. Its homepage is www.cdp.net.
ISOS Group, LLC is an innovative, fully integrated sustainability consultancy, serving the needs of organizations across all industries. From its office in California, one of the largest economies in the world and leaders in climate change policy, ISOS Group is well positioned to provide added value to the growing market. Our team of GRI Certified practitioners offers an unmatched blend of skills in sustainability reporting, external assurance of CSR, carbon reporting, third-party GHG verification and stakeholder engagement. This acknowledgement comes as an extension to ISOS' status as GRI Certified Training Partner in the U.S. for nearly 6 years and U.S. and a CDP Silver Consultancy Partner since 2012. Its homepage is www.isosgroup.com.
####
Further Information:
Alexandru Georgescu, CFO and Co-Founder
ageorgescu@isosgroup.com
619 866-ISOS (4764)
ISOS Group | www.isosgroup.com | 330 A St. Ste 114, San Diego, CA 92101
Featured Product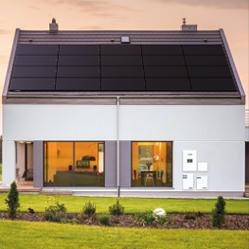 The Q.Home+ ESS HYB-G1 energy storage solution offers scalable storage capacity from 4.5 kWh up to 18.9 kWh and comes in a modular design for easy and fast installation. The system is offered in both DC-coupled and AC-coupled configurations and can connect up to 3 batteries in series using only one inverter and battery management system (BMS). The system includes an integrated backup power function for 100% of the rated inverter output to support critical loads in the event of power failure and offers remote monitoring using the QHOME+ web portal or QHOME+ ESS mobile app.