SunEdison and the SunEdison Foundation contribute $1.2 million toward the expansion of the solar industry talent base
BELMONT, Calif., March 6, 2014 -- SunEdison, Inc. (NYSE: SUNE) and the SunEdison Foundation today announced a $1.2 million philanthropic partnership with GRID Alternatives, the nation's largest non-profit solar installer. Together the organizations are launching a National Women in Solar Initiative with the goal of increasing the number of women in the solar industry and supporting their professional advancement. The investment is both financial and in the form of solar panels and directly supports GRID Alternatives' mission to bring solar power and solar job training to underserved communities throughout the United States.

"Taking this step to create and advance the Women in Solar Initiative is not only the right thing to do, it is a smart business investment," said Ahmad Chatila, CEO of SunEdison. "The continued success of the solar industry depends on recruiting and nurturing the best and brightest people, and this initiative is going to help do exactly that."
Under the terms of the agreement, GRID Alternatives will provide hands-on training and real-world experience in solar system installation to over 1,000 women across the country. In addition, GRID Alternatives will provide 20 women with one year paid fellowships to work in the solar industry. GRID Alternatives will also host a national series of solar installation events and other networking opportunities for both current women executives and up-and-coming professional women looking to advance in the solar industry. The first event will take place on Friday April 25th in Denver.
"GRID Alternatives' volunteer model provides women a pathway to access a variety of careers in an industry that added jobs at a rate of 20 percent last year," said Erica Mackie, co-founder and CEO of GRID Alternatives. "Women's talents and voices will be critical to the solar industry's continued growth, and we are thrilled to be partnering with SunEdison to increase their participation in this field."
In addition to SunEdison's philanthropic investment, volunteers from SunEdison will get on the roof with GRID Alternatives employees to help install solar electric systems for low-income families around the country.
About SunEdison
SunEdison is a global leader in semiconductor and solar technology. SunEdison has been a pioneer in the design and development of silicon wafer technologies for over 50 years. With R&D and manufacturing facilities in the U.S., Europe, and Asia, SunEdison enables the next generation of high performance semiconductor devices and solar cells. SunEdison is also a developer of solar power projects and a worldwide leader in solar energy services. SunEdison's common stock is listed on the New York Stock Exchange under the symbol "SUNE." For more information about SunEdison, please visit www.SunEdison.com.
About GRID Alternatives
GRID Alternatives is a non-profit organization that brings the benefits of solar technology to low-income communities. Using a barn-raising model, GRID Alternatives leads teams of volunteers and job trainees to install solar power on qualifying homes, providing needed savings for families struggling to make ends meet while preparing workers for jobs in the fast-growing solar industry and cleaning our air. More than 4000 families have benefited from the program to date, saving $110 million in lifetime electricity costs, and more than 15,000 people have received solar training. GRID Alternatives has nine offices throughout California, Colorado, and the New York/Tri-State area, and also works in tribal lands and in Nicaragua. For more information, visit www.gridalternatives.org.
Featured Product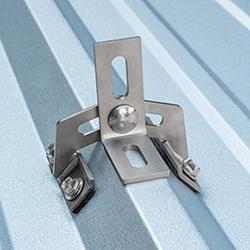 They have been changing the game for 10 years with their original Top Mount line for Asphalt Shingle roofs, and by now supplying one of the widest ranges of solar mounts in North America. From their patented products, to the custom production services they offer, QuickBOLT has been working with solar installers for nearly a decade to make solar installations easier than ever before.