27.5 MW of Yingli Solar Modules Selected for Utility-Scale Project
BAODING, China, March 10, 2014 -- Yingli Green Energy Holding Company Limited (NYSE: YGE) ("Yingli Green Energy" or the "Company"), the largest vertically integrated photovoltaic ("PV") module manufacturer in the world, known as "Yingli Solar", today announced its largest supply agreement to date in Israel and the Middle East, under which the Company will deliver 27.5 MW of multicrystalline PV modules between February and April of 2014.

The Company will supply its YGE 72 Cell NH Series modules to a solar power plant that will occupy more than one million square meters of land in Israel. Designated a National Infrastructure Project by the Israeli Government, the solar farm has been granted the conditional feed-in tariff approval from the Israeli Public Utilities Authority.
"We are pleased to achieve our largest supply agreement to date in Israel," said Mr. Manuel Seiffe, New Market Development Director of Yingli Green Energy International AG. "We look forward to embracing future opportunities to utilize the Middle East's abundant solar resources in close cooperation with leading solar companies in the region."
"This supply agreement builds upon our long-standing relationship with Ledico Ltd., our local distribution partner in Israel, and it also extends our presence and visibility throughout the region. We view Israel as an important and sustainable growth market with the potential to reach more than 340 MW of installed solar PV capacity in 2014. We are excited to continue supporting the region's successful implementation of solar PV through this major supply agreement," said Mr. Liansheng Miao, Chairman and Chief Executive Officer of Yingli Green Energy.
About Yingli Green Energy
Yingli Green Energy Holding Company Limited (NYSE: YGE), known as "Yingli Solar," is the world's largest photovoltaic module manufacturer in terms of production capacity and shipments. Yingli Green Energy's manufacturing covers the photovoltaic value chain from ingot casting and wafering through solar cell production and module assembly. Headquartered in Baoding, China, Yingli Green Energy has more than 20 regional subsidiaries and branch offices and has distributed more than 7,000 MW PV modules to customers worldwide. For more information please visit www.yinglisolar.com and join the conversation on Facebook, Twitter and Weibo.
Featured Product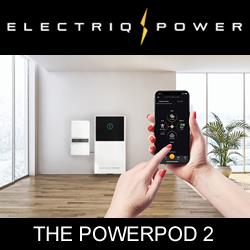 The Electriq PowerPod 2 is a fully-integrated home energy storage, management, and monitoring system powered by LFP batteries. The high-performance, cobalt-free product includes a hybrid solar/battery inverter controlled by intelligent software. The PowerPod 2 provides backup power and can self-consume or export excess power back to the grid.