SolarNexus to build industry's first end-to-end framework to streamline solar project management by integrating multiple vendors' offerings.
San Francisco, CA March 11, 2014

SolarNexus, the industry leader in web-based solar business management software, today announced it has been awarded a $500,000 cooperative agreement from the U.S. Department of Energy SunShot Initiative. The award, announced as part of the SunShot Incubator Program, is aimed at reducing non-hardware related soft costs associated with solar energy installations. SolarNexus will use the award to build and demonstrate the industry's first integrated ecosystem of applications, using a common data exchange format to tie together disparate software tools used by solar contractors and others in the downstream solar market. By reducing the amount of administrative time required to sell and manage projects, the project will help to reduce the overall cost of solar project deployments which will drive faster adoption of renewable energy.
"SolarNexus is excited and honored to be selected for this award," said Eric Alderman, CEO of SolarNexus. "Since our founding, SolarNexus has been focused on leveraging technology to reduce the soft costs for solar installers and other downstream stakeholders. The ecosystem of applications we are creating through this project will not only significantly enhance and simplify the business operations of our customers, but also those well beyond the SolarNexus user base."
The next-generation ecosystem will leverage the Integrated Energy Project (IEP) Model
(iepmodel.net), an existing, publicly available data standard for the transfer of solar client and project-related information. SolarNexus was a key member of the IEP Model development team, an effort funded by a grant from the California Solar Initiative. "The IEP Model offers a common language for software applications in the solar industry to exchange data," said Michael Palmquist, co-Founder of SolarNexus and project lead for the SunShot grant. "Teaching software to 'talk' to each other is critical to lowering soft costs. Untold thousands of man-hours are spent moving data trapped in 'silos.' Nothing frustrates users more than re-entering the same data in multiple tools, instead of being out in the field working with their customers."
SolarNexus and its project partners will use the IEP Model to automate data transfers in use cases related to customer acquisition, design and engineering, permitting, and commissioning. The project will leverage the existing DOE-funded SolarABCs Expedited PV Permitting standard, and to ensure success, SolarNexus will be working closely with one of the key drivers of that standard, Brooks Engineering. Contractors using the resulting solution will significantly speed up their project development, reduce time spent managing project data through their business processes, and reduce costly data errors.
To learn more about the project or sign up for a free trial, visit http://www.solarnexus.com; or request a demonstration at info(at)solarnexus(dot)com.
The U.S. Department of Energy (DOE) SunShot Initiative is a collaborative national effort that aggressively drives innovation to make solar energy fully cost-competitive with traditional energy sources before the end of the decade. Through SunShot, DOE supports efforts by private companies, universities, and national laboratories to drive down the cost of solar electricity to $0.06 per kilowatt-hour. Learn more at http://www.energy.gov/sunshot.
About SolarNexus
SolarNexus Inc. provides solar business management software that makes it cheaper, faster, and more profitable to sell, install, and maintain solar systems. Designed specifically for the solar industry, the solution streamlines sales, operations, and administrative processes, thereby increasing sales and lowering costs. SolarNexus is web-based and facilitates collaboration among team members and externally with key suppliers and partners. For more information, visit http://www.solarnexus.com.
Featured Product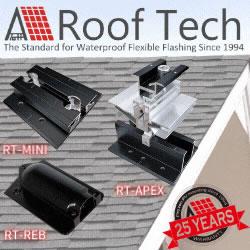 Now Roof Tech brings you the most innovative, watertight mounting systems ever developed for solar photovoltaic systems. Designed and manufactured exclusively for us by Japan's longtime leader in roofing technologies, Roof Tech products are 100% code-compliant and offer fast, simple installation and huge savings on shipping costs due to their compact, rail-less design. Learn more about our full line of versatile PV mounting solutions now available for residential installations. The next generation in rooftop solar mounting solutions."