Location intelligence expertise will inform hydrogen refueling infrastructure for California
FLORHAM PARK, N.J.--Kalibrate Technologies is pleased to announce that it has been awarded a contract by the Energy Department's National Renewable Energy Laboratory (NREL). The main objective of the partnership is to identify the infrastructure for placing hydrogen refueling stations throughout the state of California. Currently there are only 9 hydrogen stations available to the public in California which is home to 38 million people and is the largest state in the U.S.

Automobile manufacturers will be releasing hydrogen vehicles for sale to the public beginning this spring. In addition to the environmental benefits and zero tailpipe emissions, a major advantage that hydrogen fuel cell electric vehicles (FCEVs) will have over gasoline vehicles is their gas mileage. FCEVs realize fuel economies that are more than twice that of today's conventional gasoline vehicles. In addition, FCEVs have the quiet, smooth drive of battery electric vehicles with the range, size and rapid fill-up times of conventional gasoline vehicles. Hydrogen can be produced from any primary energy resource, including low-carbon sources such as renewables, nuclear and fossil with carbon capture and storage.
The availability and proper placement of retail hydrogen fueling outlets is critical to the successful market adoption of FCEVs by consumers. In order to instill confidence in consumers that they can travel throughout the marketplace with minimal concern about where they can refuel their FCEV, Kalibrate will employ its 20 plus years of retail site evaluation and fuels network planning expertise and modeling techniques to identify how many hydrogen fueling stations are needed and where they could be located. The optimal locations will be identified along with alternate locations for consideration when the best location is not viable. NREL's industry knowledge and expertise about hydrogen fueling and the consumer that is likely to adopt this new technology will provide valuable insight to Kalibrate's process of determining the right infrastructure for these stations.
"Alternative fuels are a growing segment that will create commercial opportunities for today's petroleum retailers," said Bob Stein, president and chief executive officer of Kalibrate Technologies. "We look forward to working with the petroleum and convenience store industry to adapt and plan for this changing environment and look forward to working with NREL to address this new opportunity."
About Kalibrate Technologies
Kalibrate (formerly KSS Fuels) is the leading global provider of fuels pricing and retail location intelligence, helping retailers fine-tune decisions to deliver on performance goals. Its proven software, analytics and consulting solutions draw on more than 20 years of expertise and insight into the needs and opportunities of petroleum retailers. Kalibrate has headquarters in Manchester, United Kingdom and Florham Park, New Jersey. The company also has a Center of Excellence in Tulsa, Oklahoma and sales operations in Florida, Illinois, Ohio, Texas, Canada, Brazil, China, India, Japan, Korea and Africa. For more information about Kalibrate, please visit KalibrateTech.com.
Featured Product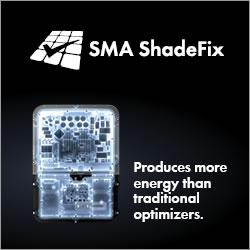 A recent university study showed SMA ShadeFix optimization produces more energy than traditional optimizers. It also utilizes far fewer components, reducing the need for costly service visits. Systems with ShadeFix optimization and SunSpec certified shutdown devices are the ideal solution for residential and commercial PV systems. Visit SMA's website to learn more and download the whitepaper.