Custom versions for specific applications are also available.
The Sensata PVAF family of solar arc fault detectors allows PV inverter and combiner box manufacturers to develop National Electric Code (NEC) 2011-compliant equipment. The PVAF family is a series of UL 1699B-recognized, pre-integrated arc detection solutions for use in inverters or combiner boxes on new arrays, or retrofit boxes on existing arrays.

Sensata's proprietary solution detects arcs while minimizing nuisance trips by identifying the electrical noise signature created by arc faults in the array wiring. Each PVAF device monitors up to four PV strings by itself, and multiple PVAFs can run in parallel to monitor more strings or a whole combiner box.
The PVAF series is available in configurations powered with 12 VDC or 24 VDC, and for monitoring strings up to 15 A at 1,000 V or combined lines up to 40 A at 1,000 V. Custom versions for specific applications are also available.
These products will be available from Sensata's authorized stocking distributor Peerless Electronics Inc.
Contact Peerless at 800-285-2121 (toll free), 516-594-3500 or at www.peerlesselectronics.com. A direct link to the Sensata PVAF series can be viewed at http://www.peerlesselectronics.com/store/search.php?search_query=pva&x=22&y=11
Featured Product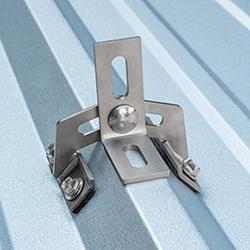 They have been changing the game for 10 years with their original Top Mount line for Asphalt Shingle roofs, and by now supplying one of the widest ranges of solar mounts in North America. From their patented products, to the custom production services they offer, QuickBOLT has been working with solar installers for nearly a decade to make solar installations easier than ever before.