A new record for the largest solar park on trackers in Scandinavia
Munich, Germany; March 18, 2014 – SolarEdge Technologies, the leading provider of distributed solar power optimization systems, announces that Kraftpojkarna has set a new record for the largest solar park on trackers in Scandinavia with the inauguration of its 1 MW installation with SolarEdge technology. Kraftpojkarna selected SolarEdge inverters and power optimizers because the solution offers module-level monitoring and control, which results in higher system uptime and reduced operating & maintenance costs. In addition, Kraftpojkarna estimates that SolarEdge technology will provide a 10% increase in energy production compared to the traditional string inverter technology.

Located on 4.5 hectares of land in Sweden along the main highway between Stockholm and Oslo, the sun tracker based system has more than 3,300 SolarEdge power optimizers and 62 SolarEdge inverters. The fixed-string voltage of the SolarEdge system allowed Kraftpojkarna to decrease the total amount of strings in the system by 35%.
"As a solar distributor and installer, we understand the importance of leveraging the full power of each and every module. Wanting to be at the forefront of technology, we selected SolarEdge because its module-level optimization combined with the module-level monitoring ensures that each module in our system is working at its optimal power for the highest possible return on investment," stated Magnus Hellberg, General Manager of Kraftpojkarna. "The proactive alerts in SolarEdge's monitoring system will allow us to immediately address issues for increased system uptime, while the remote trouble-shooting is expected to reduce our O&M costs."
Following this project, Kraftpojkarna has committed to continue using SolarEdge inverters in its future projects and the majority of its future modules will have manufacture-embedded SolarEdge power optimizers.
"SolarEdge is proud to be a part of this ground breaking installation and believes that it proves the superior benefits of our technology. We are looking forward to a long-term and mutually beneficial partnership with Kraftpojkarna," stated Joachim Nell, SolarEdge's General Manager of Central Europe. "This solar park is part of the global trend of using module-level optimization in large systems."
The system will produce an estimated 1,200 MW hours annually, which the local utility provider, MälarEnergi, will purchase according to a long-term PPA.
The system was recently inaugurated by the Swedish Minister of IT and Energy. "This will be a great facility…which shows many of those interested in investing in solar energy that it actually works, that one can build small-scale plants in Sweden, and that it is economical to build such large facilities," stated Anna Karin Hatt, Swedish Minister of IT and Energy.
About SolarEdge Technologies
SolarEdge Technologies provides end-to-end distributed solar power optimization and PV monitoring solutions, allowing maximum energy production for faster ROI. The SolarEdge power optimizers perform MPPT per individual module while monitoring the performance of each module. The high efficiency SolarEdge inverter is tailor-made to work with power optimizers. Module-level electronics enable enhanced maintenance and increased system safety with the SafeDC™ mechanism. SolarEdge technology provides commercial PV systems with flexible design, increased system uptime, and decreased O&M costs SolarEdge is online at www.solaredge.com
Featured Product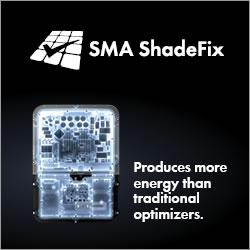 A recent university study showed SMA ShadeFix optimization produces more energy than traditional optimizers. It also utilizes far fewer components, reducing the need for costly service visits. Systems with ShadeFix optimization and SunSpec certified shutdown devices are the ideal solution for residential and commercial PV systems. Visit SMA's website to learn more and download the whitepaper.