Leading solar module supplier strengthens its presence in Latin America
ISMANING, Germany--Hanwha SolarOne, provider of high-quality, cost competitive solar photovoltaic modules, today announced that it has completed a 6.2 MW delivery of its high quality 72-cell solar modules (HSL72) to a consortium of the Spain-based companies Cobra and Gransolar. The modules will be installed in a new solar park in Rio Hondo, Las Cruces, Guatemala.

Both Gransolar and Cobra specialize in the development, construction, operation and maintenance of renewable energy plants. Last year, Cobra, Gransolar and South African company Kensani installed a total of 155 MW Hanwha SolarOne PV modules in the Letsatsi and Lesedi solar parks in South Africa. The projects are expected to be connected to the grid in the first half of 2014.
"We are very pleased to accompany our long-term customers into new regions," said Ramon Petanas, Director Sales Iberia of Hanwha SolarOne. "Latin America is an area with high potential for solar power. Together with highly experienced EPCs such as Gransolar and Cobra, we hope to contribute to the accelerated deployment of solar installations in emerging markets."
Maengyoon Kim, Managing Director of Hanwha SolarOne GmbH commented, "We see many opportunities in Latin America, and our company is taking the necessary steps to strengthen our presence in the region. In addition to serving EU-based customers active in Latin America from our European offices, the Hanwha Group's global sales network provides local representation in the region."
Recently, Hanwha SolarOne received the Inmetro certification for its HSL module series, a prerequisite for solar modules imports to Brazil.
About Hanwha SolarOne
Hanwha SolarOne Co., Ltd. (NASDAQ: HSOL) is one of the top 10 photovoltaic module manufacturers in the world, providing cost-competitive, high quality PV modules. It is a flagship company of Hanwha Group, one of the largest business enterprises in South Korea. Hanwha SolarOne serves the utility, commercial, government and residential markets through a growing network of third-party distributors, OEM manufacturers and system integrators. The company maintains a strong presence worldwide, with a global business network spanning Europe, North America, Asia, South America, Africa and the Middle East. As a responsible company committed to sustainability, Hanwha SolarOne is an active member of the PV Cycle take-back and recycling program. For more information, please visit: www.hanwha-solarone.com.
About Gransolar
Gransolar is an international Spanish company, working in Europe, Africa and America, specialized in development, engineering, supply, construction and operation of solar photovoltaic plants, with more than 250 MW completed. For more information, please visit: www.gransolar.com.
About Cobra
Cobra has more than sixty years of experience as a leader in the industrial service sector and all fields of applied engineering, from development and construction of new projects to maintenance of industrial and energy infrastructures. The company is a leader in: Energy and water distribution networks, Telecommunication systems, Railways installations, Industrial systems and Energy projects. With its headquarters in Madrid Cobra draws upon an extensive network of 200 offices in Spain and 60 abroad, employing more than 20,000 specialized professionals. For more information please enter: www.grupocobra.com.
Featured Product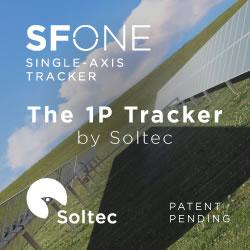 Under the slogan "engineered for greatness", the SF8 tracker aims to revolutionize the photovoltaic market with its new minimum 2x60 configuration and 4 to 6-strings. This tracker is elegantly designed while it reinforces its structure to perform in any terrain. In addition, the SF8 tracker increases the rigidity of its structure by 22% more than the previous generation of Soltec trackers, the SF7. The SF8 is specially designed for larger 72 and 78 cell modules, an increasing market trend.