Q CELLS systems to be installed at 120 retail stores across the country ---- Hanwha Q CELLS to provide financing for all 31 MW ---- ILIOSS to design and install solar systems
MONTERREY, Mexico, March 24, 2014 -- Tiendas Soriana S.A. de C.V., Mexico's second largest retail company, and Hanwha Q CELLS, one of the world's leading full-service solar power companies, today announced a 20-year Power Purchase Agreement (PPA) for 31 megawatts (MW) of photovoltaic (PV) solar power at 120 retail locations across Mexico that will create significant long-term energy savings for Soriana. The agreement lays the foundation for a long-term partnership, which could lead to new installations at additional Soriana stores in the future.

Hanwha Q CELLS will partner with Mexican developer and construction company ILIOSS to install rooftop and carport systems in Soriana's stores in Mexico City and the states of Mexico, Jalisco, Queretaro and twelve others. Soriana will reduce a significant portion of their energy demand by using onsite solar power while fixing its long-term energy cost. Hanwha Q CELLS will finance all 31 MW.
Hanwha Q CELLS and ILIOSS have already begun construction on the first seven solar systems in Baja California Sur, which will feature more than 12,000 high-efficiency, German engineered Q CELLS Q.PRO-G3 250 W panels to provide approximately 3.05 megawatts of combined generation capacity. Construction on all 120 sites is expected to be completed by early 2015.
"Soriana is an ideal partner for a solar project of this scale in Mexico," said Alejo Lopez, Hanwha Q CELLS Country Manager for Mexico. "Solar power makes strong economic sense for many large retail and industrial energy users in Mexico, even without any government subsidies."
"With great solar resources and a positive investment outlook, Mexico is a prime growth market for Hanwha Q CELLS," said Moon Hwan Cha, Hanwha Q CELLS USA President. "The robust financial standing of the Hanwha Group allows Hanwha Q CELLS to establish long-term partnerships with customers in key markets like Mexico and other emerging markets in Latin America."
"With this association Hanwha Q CELLS, Soriana and ILIOSS join forces to provide the most advanced technology to obtain clean energy at preferential costs. This project allows Soriana to meet both its sustainability and cost saving goals" said Aurelio Adan, CFO of Soriana.
"It is a privilege for ILIOSS to partner with such great companies as Soriana and Hanwha Q CELLS on this ambitious project, the biggest rooftop project in Mexico and Latin America. Our experience and professional capacity will provide certainty on the quality of the design and construction of the solar systems." said David Arelle, ILIOSS CEO.
About Soriana
Tiendas Soriana S.A. de C.V. is a fully owned subsidiary of Organizacion Soriana (BMV: SORIANAB). Soriana is a Mexican public company and is the second largest retailer in Mexico with more than 640 stores. Soriana is a grocery and department store retail chain headquartered in Monterrey, Nuevo Leon, Mexico. The company is 100% capitalized in Mexico and is publicly traded on the Mexican stock exchange (Bolsa Mexicana de Valores), since 1987 under the symbol: "Soriana". www.soriana.com.mx
About Hanwha Q CELLS
Hanwha Q CELLS is headquartered in Germany and one of the world's leading photovoltaics companies, offering a wide range of high quality photovoltaic products, solutions and services "Engineered in Germany". Next to its premium quality products from high-quality solar modules to systems and power plants the company also offers long-term partnership and financial stability being part of the South Korean Top-Ten business enterprise Hanwha Group. At its headquarters in Thalheim (Germany) Hanwha Q CELLS has a unique setup of R&D and production enabling the company to develop technologically leading products and innovative manufacturing methods. The cell production sites in Malaysia and Germany and the module production line in Germany are the core of manufacturing. In addition, the company converts its high-efficiency solar cells into modules in cooperation with certified contractors in Europe and Asia. Hanwha Q CELLS sells its products via its international sales network with branches in Germany (HQ), Malaysia, Korea, USA, Canada, Japan and Australia. Thanks to its truly international setup, high quality products and the financial stability, Hanwha Q CELLS is the reliable partner for PV customers around the globe. For more information, visit: www.q-cells.com.
About Hanwha Group
Hanwha Group, founded in 1952, is one of the Top-Ten business enterprises in South Korea with 51 domestic affiliates and 109 global networks in three major sectors: manufacturing and construction, finance, and services and leisure. With more than 60 years track record of industrial leadership, Hanwha's manufacturing and construction businesses encompass a broad range of fields from basic chemicals and advanced materials to property development and total solar energy solutions. The finance network, covering banking, insurance, asset management and securities, is the second largest non-bank finance group in South Korea. The services and leisure sector offers premium lifestyle services with retail and resort businesses. For more information, visit: www.hanwha.com.
About ILIOSS
ILIOSS provides solutions for energy sale, financing, engineering, procurement, construction and operation of solar energy systems. ILIOSS is the leading Mexican solar developer and EPC company with the highest rooftop PV power installed. Among its clients there are recognized commercial and industrial companies and real estate developers. www.ilioss.com.
Featured Product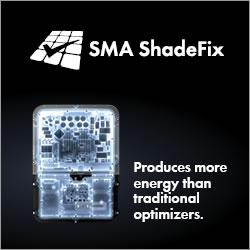 A recent university study showed SMA ShadeFix optimization produces more energy than traditional optimizers. It also utilizes far fewer components, reducing the need for costly service visits. Systems with ShadeFix optimization and SunSpec certified shutdown devices are the ideal solution for residential and commercial PV systems. Visit SMA's website to learn more and download the whitepaper.