The latest update to the draft IRP 2010-2030 Update Report 2013 advocated increasing the CSP cap from the current allocation of 1,200 MW to 3,300 MW by 2030.
The March 2014 edition of the CSP Today Quarterly Update examines:

Why the allocation to CSP was increased when the allocation to other energy sources such as wind was reduced
How storage has become a defining characteristic of the South African CSP landscape
What to expect from upcoming bidding windows
Storage in South Africa is particularly suitable due to the two pronounced demand curves illustrated by the figure below. The two tier tariff system introduced last year encourages CSP developers to produce energy to meet the evening peaks – meaning that storage is essential for CSP plants in South Africa.
What is the Quarterly Update?
Developed directly from primary data listed on the CSP Today Global Tracker, this data based analysis of the industry is the perfect tool to further understand global market developments. The goal of the update is to provide clients with a succinct, informative and detailed breakdown of the biggest events in the past quarter. To achieve this we compare major CSP markets, highlighting which areas have experienced the greatest change over the past quarter and what this means for the industry going forward.
The March 2014 edition of the CSP Today Quarterly Update delves into the latest developments since December 2013. Currently there are 30 CSP-active markets listed on the CSP Today Global Tracker. Of these, 14 markets experienced significant changes over the past quarter – all of which are discussed in this edition.
The March edition of the CSP Today Quarterly Update consists of 49 pages of data rich analysis, including 59 tables and figures.
It is now available from: http://goo.gl/b1Bb03.
About CSP Today: CSP Today is the reference point for CSP professionals. We provide business intelligence to the industry with focused news, events, reports, updates and information for the Concentrated Solar Thermal Power industry in markets such as India, South Africa, Spain, USA, Chile and the MENA region.
Featured Product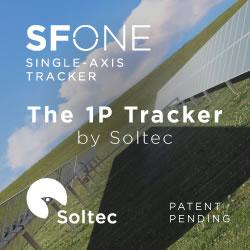 Under the slogan "engineered for greatness", the SF8 tracker aims to revolutionize the photovoltaic market with its new minimum 2x60 configuration and 4 to 6-strings. This tracker is elegantly designed while it reinforces its structure to perform in any terrain. In addition, the SF8 tracker increases the rigidity of its structure by 22% more than the previous generation of Soltec trackers, the SF7. The SF8 is specially designed for larger 72 and 78 cell modules, an increasing market trend.