PV 'Henry' manufacturer opens doors to businesses to show how money can be made from an overhead
Next week Numatic, the Chard-based manufacturer of Henry vacuum cleaners, opens up it doors (and roof) to businesses interested in saving money and generating extra income from a solar PV system.

A full year after Numatic had its solar panels fitted, it's got together with SunGift Solar – the company that designed and installed the system – and the Institute of Directors (IoD) to show other companies the benefits of renewable energy.
The event – which includes a full tour of its solar PV system, information on the practicalities of setting up a scheme, and presentations on the financial benefits – takes place at the company's HQ at Millfied Industrial Estate, Chard on Tuesday 1 April from 12.30pm-2.30pm.
"Most companies have been experiencing increased energy costs lately," said SunGift Energy's Gareth Walton, "so a commercial solar PV system like the one at Numatic is an excellent way to take control and reduce these costs considerably.
"The Numatic system is a perfect example, as it's typical of the type of system that we are installing for organisations that have available roof-space. It's generating Numatic a return on investment of more than 20% per annum, which means that the system will have paid for itself within less than five years, with many more years of free, sustainable energy to look forward to."
Businesses that would like to attend the event can get more information and register from www.sungiftsolar.co.uk/events/.
Businesses can also register their place directly by contacting Mandy at SunGift Energy on 01392 213912, mandy@sungiftenergy.co.uk.
Featured Product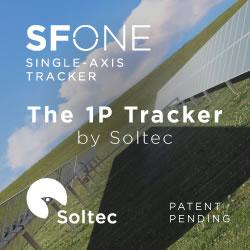 Soltec manufactures and supplies solar trackers designed and proven for extreme climate conditions, which is an ideal solution for any region's environment. Soltec's trackers are self-powered, requiring no additional PV module or grid-powered connection. Bifacial modules collect energy on both the front and rear sides, capturing reflected irradiance from the ground surface under and around the tracker and from other modules. Depending on site conditions, bifacial yield-gain can reach +30 percent.