The company's international installer network also includes 389 qualified installers from the U.S.
• The new sales office is located in Boston and the new photovoltaic material distribution centre in the city of Edison, New Jersey.

• These two new centres have enabled PROINSO to strengthen its presence in the U.S. as a leading specialist in photovoltaic material distribution.
• PROINSO's two new centres join its two already-existing locations on the U.S. West Coast: a headquarters in Sacramento, California and a distribution centre in San Francisco.
31 March 2014.-PROINSO, international solar energy distributor, has opened a new sales office in Boston and a new distribution centre in Edison, New Jersey. The multinational company's objective is to make its technical, business and material support available on the East Coast and to strengthen its presence and further penetrate the US market. PROINSO will count on the local partnership with the 389 qualified U.S. installers who form part of its international network.
"Our recent expansion to the East Coast positions Proinso to become a key player in the most dynamic and fastest growing part of the United States PV market", explains PROINSO's Country Manager Pablo Gonzalez.
The two new East Coast centres join the firm's already-existing offices and distribution warehouse on the U.S. West Coast, established in 2009 in San Francisco and Sacramento, respectively.
The new centres have been opened eight months after PROINSO USA strengthened its American market alliance with SMA, the leading worldwide developer, manufacturer and marketer of PV inverters. In fact, PROINSO forms part of SMA's exclusive group of authorised distributors in the U.S.
PROINSO currently distributes over 500 PV power products from leading manufacturers all over the world. These products include inverters, modules, trackers, structures, batteries and numerous other materials manufactured by top brands such as SMA, JINKO SOLAR, SOLARWORLD, MECASOLAR and RENUSOL.
The company currently has 2,469 qualified installers in its international network.//
Featured Product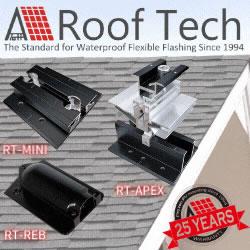 Now Roof Tech brings you the most innovative, watertight mounting systems ever developed for solar photovoltaic systems. Designed and manufactured exclusively for us by Japan's longtime leader in roofing technologies, Roof Tech products are 100% code-compliant and offer fast, simple installation and huge savings on shipping costs due to their compact, rail-less design. Learn more about our full line of versatile PV mounting solutions now available for residential installations. The next generation in rooftop solar mounting solutions."