This award was presented at the Energy Harvesting & Storage Europe 2014 conference in Berlin Germany being held April 1-2, 2014.
BERLIN, April 1, 2014 -- Today, a panel of independent judges at the ID TechEx 2014 Energy Harvesting Europe conference awarded Research Frontiers (Nasdaq:REFR) and its patented SPD-SmartGlass light control technology the "Best Application of Energy Harvesting" award. This award was presented at the Energy Harvesting & Storage Europe 2014 conference in Berlin Germany being held April 1-2, 2014.

As noted by ID TechEx: "This is the award given to an actual commercial success with an end-product using Energy Harvesting (in the last 24 months, April 2012 - April 2014). Judges look for success in terms of products sold and revenues generated."
Joseph M. Harary, Research Frontiers' President and CEO, thanked the judges for this honor and noted at today's awards ceremony: "Energy Harvesting is strategically important. As you will hear in my keynote presentation for the Smart Glass segment of this conference tomorrow, most of the world's construction is occurring in China, Europe and the United States which together consume 54% of the world's energy. Of this, over 40% of this energy (and 73% of electricity) is being consumed by buildings. By helping to save energy used for heating, cooling and lighting, SPD-SmartGlass windows can have a beneficial impact on total energy consumption around the world."
SPD-Smart windows have the ability to block heat in the summer and allow it inside in the winter to reduce heating and cooling energy requirements, as well as making occupants more comfortable by keeping a steady pre-selected level of light and temperature while blocking harmful UV all of the time. By more effectively controlling daylighting, SPD-Smart windows also allow "daylight harvesting" which some independent sources estimate can save 35%-60% on lighting energy. With the growing pressure to ease the energy use of buildings, many expect it to be a cornerstone of intelligent building design for many years to come. Because SPD-SmartGlass can be retrofitted to existing structures, even existing building stock can benefit from this green technology.
During the awards ceremony, a video showing commercial use of SPD-SmartGlass in the architectural, automotive, aircraft, marine and museum industries was shown to the conference attendees, which can be seen on the homepage of Research Frontiers' YouTube Channel.
SPD-Smart technology is the world's best-selling variably tintable dynamic smart window technology. It is the only smart glass technology that gives users the ability to instantly and precisely control the level of shading to any point between very dark and clear. This provides exceptional control over solar energy while also adding to user comfort and protecting interiors. Available in both glass and lightweight polycarbonate substrates, SPD-Smart products are laminated glazings that offer a distinctive combination of energy efficiency and security, can be controlled manually or automatically, and are available in custom sizes and fabrications for original equipment, new construction, replacement and retrofit projects. SPD-SmartGlass is currently being used in the automotive, architectural, aircraft and marine industries.
More information about this award and the conference are available at:
http://www.idtechex.com/energy-harvesting-europe/awardcategories.asp
About Research Frontiers Inc.
Research Frontiers is the developer of SPD-Smart light-control technology which allows users to instantly, precisely and uniformly control the shading of glass or plastic, either manually or automatically. Research Frontiers has built an infrastructure of over 40 licensed companies that collectively are capable of serving the growing global demand for smart glass products in automobiles, homes, buildings, museums, aircraft and boats. For more information, please visit our website
at www.SmartGlass.com.
Featured Product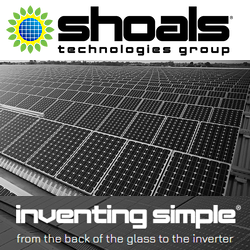 Inventing Simple® isn't just a slogan to us, it's a way of life. Using simple plug-and-play ideology, we revolutionized solar installations in 2003 with our Interconnect System™. Our harnessing system is now the gold standard EPC's use around the world. By using simple ideas, we are making solar energy a more affordable and clean power source for future generations.