Green Charge Networks Pioneers Power Efficiency Agreements to Save Cities and Businesses up to 70%
SANTA CLARA, Calif. (March. 31, 2014) – Worried about increasingly expensive electricity bills and incentivized by California's new energy storage mandate, cities and businesses across California are turning to intelligent energy storage solutions. Green Charge Networks, the intelligent energy storage leader, has just announced an impressive list of new customers, including large national chains like Walgreens and 7-Eleven as well as Redwood City and Lancaster City.

Made famous as the first city to mandate home solar, Lancaster quickly realized that it needed energy storage to complement solar, thereby decreasing demand charges as the sun sets and electricity use spikes. Lux research predicts that the combined solar PV and energy storage market will represent $2.8B over the next five years. GCN estimates that storage could boost investor returns on solar projects by as much 40%.
Lancaster's GreenStationTM system will be located at the Lancaster Museum of Art & History (MOAH). For Redwood City, Green Charge Networks will install the GreenStationTM at two facilities: one in downtown and one at Redwood City Library. This 30 kW energy storage system is expected to save 50% in demand charges per year, making Redwood City the first Bay Area city to install energy storage to offset demand charge savings. Green Charge Networks has also signed up the County of Santa Clara and Peralta community college district.
"The City of Lancaster continues to seek new and innovative ways to foster the use of renewable energy, protect the environment, and create cost savings for our taxpayers in the process," said Mayor R. Rex Parris. "Energy storage is the cutting edge of renewable energy technology and it will propel our city toward becoming America's first truly Net Zero City. We are proud to partner with Green Charge Networks to implement this technology in our community."
For many businesses like 7-Eleven, Walgreens and UPS, energy storage is a way to reduce demand charges that have greatly spiked their electric bills. Over the past decade, demand charges in California have been growing by more than 7% annually – accounting for 50% of the electric bills of many institutions and businesses. Green Charge Networks uses proven technology to cut these demand charges by 50-70%.
"Many people speculate on the potential of energy storage but at Green Charge Networks we've signed customers who are installing the GreenStation energy storage today. We're pleased to enter into this partnership with various cities, retails, and colleges to help the community utilize power more efficiently. Since solar-generated power is now required in new homes in the City of Lancaster, the next evolution will come from intelligent energy storage and power efficiency, which will help offset demand charges," said Steve Kelley, Senior Vice President of Sales at Green Charge Networks.
About Green Charge Networks
Founded in 2009, Green Charge Networks is a leader in intelligent customer-sited energy storage. The company gives commercial and industrial customers control of rising demand rates on their monthly electric bills. Green Charge Networks' product complements solar PV, electric vehicle charging, and energy efficiency. The GreenStationTM was developed in partnership with leading utilities around the country, the U.S. Department of Energy, and Fortune 500 customers. GCN is headquartered in Santa Clara, CA with office in New York City. For more information, visit www.GreenChargeNet.com.
Featured Product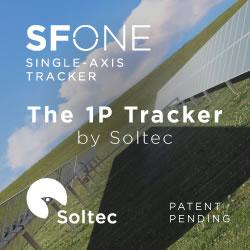 Under the slogan "engineered for greatness", the SF8 tracker aims to revolutionize the photovoltaic market with its new minimum 2x60 configuration and 4 to 6-strings. This tracker is elegantly designed while it reinforces its structure to perform in any terrain. In addition, the SF8 tracker increases the rigidity of its structure by 22% more than the previous generation of Soltec trackers, the SF7. The SF8 is specially designed for larger 72 and 78 cell modules, an increasing market trend.